Survey asks gamers what they would pay for LOTRO on Xbox 360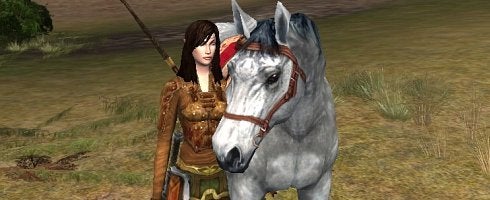 Intellisurvey has sent out a survey suggesting that Lord of the Rings Online is indeed coming to Xbox 360.
Originally rumored to be a free-to-play, microtransaction based MMO, one question posed to survey takers asked if they'd be willing to pay $12.99 per month for a subscription (after laying down $59.99 for the game), or if they would prefer a free model where you pay for add-ons.
Downloadable items listed as possible microtransaction were: in-game currency, additional classess, races, clothing, weapons, armor, animals, transportation, expansion packs, additional quests, and map packs.
Both Turbine and Warner Bros. refuse to confirm or deny the MMO, but it's been known for quite some time that Turbine was working on one for Xbox 360.
Proposed game description from the survey is after the break.
Thanks, GameDaily.
Here's the proposed game description according to the survey:
Make the move to Middle-earth as you adventure from the Shire to the shadowed walls of Mordor! Fight for the Free People of Middle-earth as you battle against the forces of the Dark Lord, or serve Sauron as you seek to obtain the One Ring! Play as any of 8 races and set out on your own epic adventure within the world created by J.R.R. Tolkien.
Wage war against other players within Middle-earth in epic player vs. player battlegrounds! Earn Destiny Points that can be used to unlock powerful rewards.
Two Epic Stories allow you to serve the Fellowship of the Ring or the Dark Lord Sauron! More than 600 quests will mold you into an unstoppable force for good...or evil. The choice is yours.
Explore hundreds of hours of game play in the largest virtual world ever built on console.