Stardew Valley follow-up Haunted Chocolatier looks better than ever in four new screenshots
It looks like Haunted Chocolatier will have a library… say less!
The creator of Stardew Valley, Eric Barone (ConcernedApe), doesn't appear to ever stop when it comes to crafting adorable, pixel-art adventure games. While development of spiritual successor, Haunted Chocolatier, was previously paused so the creator could work on Stardew's 1.6 update, Eric Barone has continued to give fans a glimpse of the upcoming game.
To celebrate reaching one million followers on X (formerly Twitter), Eric Barone has shared four new screenshots to the social media platform, teasing what players can look forward to exploring when Haunted Chocolatier finally releases.
The four screenshots detail different environments players will eventually find themselves in. First and foremost, there's a screenshot of what we can assume to be the player's home, looking a little darker than the farmhouse that Stardew Valley players will have started in.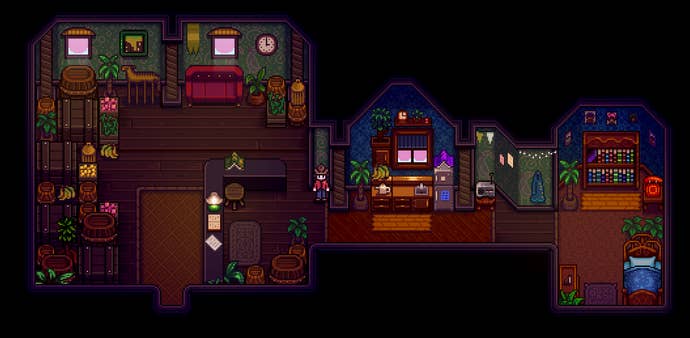 The following screenshot depicts the player character out in the wilderness, where trees, flora, and enemies are present.
This screenshot looks most similar to Stardew Valley, but there are a few changes; UI is different, and considering the player character is fighting slimes in the wild, it looks as though venturing out of our homes in Haunted Chocolatier could be dangerous.
The third screenshot shows the player facing a fountain at night in what looks like a town center of sorts, but we can only assume. Last, but not least, the fourth screenshot depicts my dream in a ConcernedApe game, and that's a library. The player can be seen with shelves full of books, and desks littered with even more of them. There's plants, a spooky skeleton decoration, and podiums for specific books. Now, I wonder if they play a part in the Haunted Chocolatier's story…
Only time will tell, and when it comes to a release date for Haunted Chocolatier, Eric Barone hasn't shared any news on this just yet. After all, he is a solo developer working on Haunted Chocolatier and Stardew Valley's 1.6 update, so there's probably a lot on his plate right now.
Either way, fans know that the wait for Haunted Chocolatier will be well worth it. If it captures even a modicum of the magic and charm that Stardew Valley features, then it's bound to be a great time.
Are you excited for Haunted Chocolatier? Which of the newly revealed screenshots are you excited to learn more about? Let us know!