Star Trek Online launches to 1M users, Klingon and Ferengi characters cost extra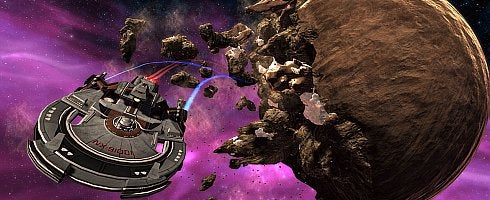 Star Trek Online officially launched today in the US with a massive patch, and while the character customization options seem quite endless - if you plan on being a Federation Ferengi or Klingon it will cost you a bit extra.
To play a one of these races you'll have to visit the in-game C-Store (Cryptic Store), reports Kotaku, and spend some Cryptic Points on the characters.
Klingons cost $3, and the Ferengi $1.
So far, the two races are cosmetic only - meaning that they are no more special than other character -so you are just paying for looks only.
Still, micro-transactions like this do not seem to have deterred gamers, as it's being reported that the game already has over one million registered users.
Here's the PR:
Atari, one of the world's most recognized videogame publishers, and acclaimed developer Cryptic Studios, are proud to announce the bold new PC MMO, Star Trek Online available today in North America and throughout the week in worldwide territories. Already, over 1 million Star Trek fans have created accounts at the official websites.

Taking place in the year 2409, Star Trek Online boasts extraordinary features and lets fans both new and old experience unparalleled adventures. Players have the opportunity to become a high ranking Starfleet officer and participate in missions that take them into the depths of space, across exotic planets and even inside other starships. Star Trek Online offers total customization, from a player's avatar to the ship he captains.

"After much anticipation, we are pleased to present Star Trek Online to fans and gamers nationwide," said Jeff Lapin, CEO of Atari. "Throughout the last four decades, Star Trek has been a mainstay in pop culture, influencing legions of 'trekkers' through television, film, and more. We expect Star Trek Online to give fans and gamers an unprecedented Star Trek experience."

Additionally, legendary actor Leonard Nimoy and Hollywood's latest Spock, Zachary Quinto, have both lent their voices to the game. Nimoy voices the introduction for Star Trek Online and other key scenes in-game. Quinto plays the part of an Emergency Medial Hologram and voices the tutorial for this first-of-a-kind massively multiplayer online role-playing game, teaching fans how to explore the Star Trek Online universe, improve their characters, attain higher ranks, succeed in space combat and excel on away missions.

Star Trek Online is a licensed product from CBS Consumer Products. For more information, please visit: www.startrekonline.com and www.atari.com.