Star Trek Online pays homage to Nimoy, others via in-game memorials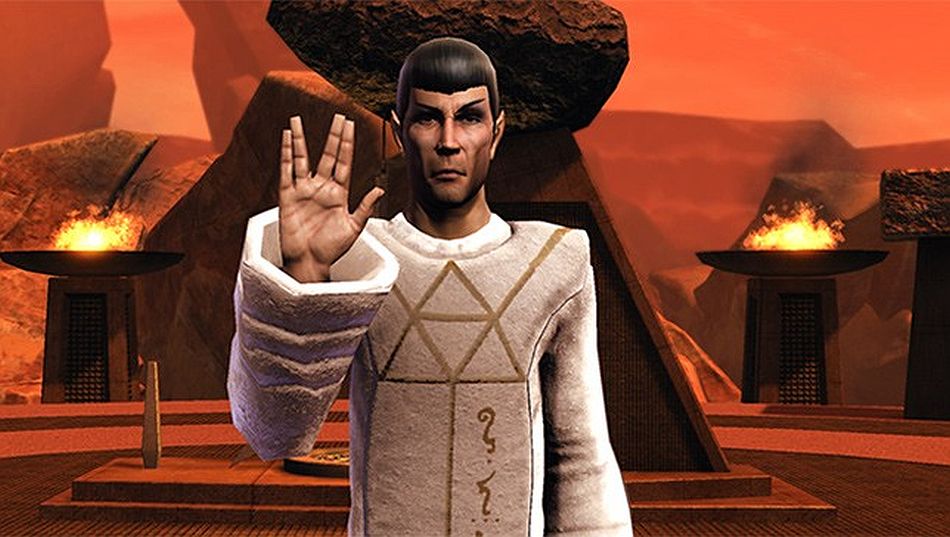 Star Trek Online players can now pay their respects to Leonard Nimoy through two in-game memorials.
Players will also be able to pay their respects to other members of the Star Trek original series who are no longer with us.
"I want to make sure Star Trek Online has an in-game way for people to remember [Nimoy]," said executive producer Stephen Ricossa on the MMO's official website. "As of this morning, there are several locations throughout the game that will allow people to take a moment to remember Spock, Leonard Nimoy, and other departed friends from Star Trek history.
"Based on where our community chose to congregate and pay their respects, we will be replacing the central structure on the fountain on Vulcan with a stone statue of Spock with the inscription "Live Long and Prosper."
"We will be adding the same statue to New Romulus with the inscription "The needs of the many outweigh the needs of the few", as building toward Romulan and Vulcan reunification was one of Spock's great life works.
"The Romulan Republic would not exist without his teachings. Through the next week we will also hang black flags of mourning in Earth Spacedock, Qo'noS, and New Romulus, so everyone that passes through those hubs will know we have lost someone important to us all."
A memorial plaque will be added to those same locations not only for Nimoy, but for others from the Star Trek family who have passed on:
DeForest Kelley - Dr. Leonard "Bones" McCoy
James Doohan - Lieutenant Commander Montgomery "Scotty" Scott
Majel Barrett - Nurse Christine Chapel (also the Enterprise's 'voice' and Gene Roddenberry's wife)
Gene Roddenberry - All hail The Creator
Players will be able to interact the memorial and read the names, the dates of their birth and passing, and a personal quote where possible.
"In this small way, we hope to honor the memory and contribution of those who helped shape Star Trek into the cultural touchstone it is today," Ricossa added.
Leonard Nimoy passed away on February 27, 2015 at the age of 83.