STALKER 2 trailer has more views than Halo and Fable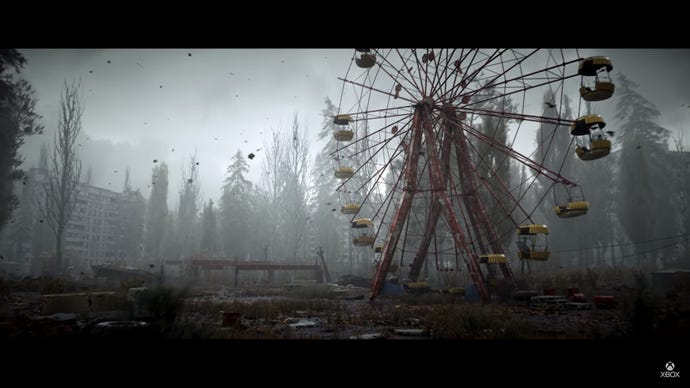 The STALKER 2 trailer revealed during yesterday's Xbox event has been viewed more times than both Halo Infinite and Fable.
more
Although you'd expect Halo and Fable to be doing the heavy lifting when it comes to Microsoft events, the new STALKER 2 trailer is the most popular thing to have emerged from yesterday's showcase by a significant margin. Currently sitting pretty at 783k views at the time of writing, it's clear that there is a lot of demand for the sequel to 2007's STALKER: Shadow of Chernobyl.
Check out the official STALKER 2 trailer below.
As one would expect, it's rocking a strong Tarkovsky/Strugatsky brothers aesthetic, with derelict ferris wheels looming large over the roadside picnic of a second nuclear disaster. Its natural, forested areas stand in stark contrast to the radiation-derived static enacting weird phenomena on the world, while strange forms hover above the maelstrom in some sort of strange, bulbous fluid.
It doesn't show a whole lot, really - more food for thought than anything else. Without gameplay, it's tough to imagine what GSC Game World are planning to do with the series a whopping 13 years after its last installment. However, one thing's for certain - people are interested in STALKER 2.
STALKER 2 was teased a few months ago when GSC Game World revealed the first screenshot in ages. It had that weird floaty form I was on about above in it.
STALKER 2 is launching on Xbox Series X first. It will also launch on PC.
In related news, an avid Minecraft player has spent two entire years constructing a real-life Chernobyl in Minecraft featuring added maps from the STALKER series.
"I am going to build both Chernobyl and other southernmost areas of the zone, as well as the Belarusian part and even the city of Poliske, for example, to inspire STALKER's Dead City map, " the player wrote on Planet Minecraft.