Square Enix announces European FFXIII 360 bundles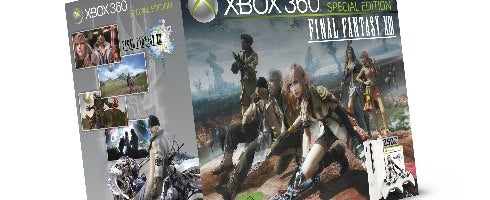 Square Enix has announced 120Gb Elite ands 250Gb "Super Elite" Xbox 360 bundles for Final Fantasy XIII.
The packs, which will go on sale day and date with the game itself on March 9, will also see 360 faceplates go on sale for the RPG, designed by designer Tetsuya Nomura, for anyone who pre-orders the Super Elite bundle.
The 120Gb flavour will get the console, 120Gb HDD, wireless controller and a copy of the game.
The Super Elite 250Gb version gets a 250Gb HDD, two wireless controllers, the game, exclusive Avatar DLC of the antagonists and the previously released Chocobo, as well as the console with the Final Fantasy XIII title engraved on it.
"FINAL FANTASY XIII is one of the most anticipated entertainment releases of all time and we're pleased to be working with Microsoft to offer gamers across PAL territories the chance to pre-order and buy one of these special Bundles and own a piece of gaming history," said VP of Brands in the PAL Region at Square Enix, Larry Sparks.
Last night at X10, Microsoft said Xbox 360 would be the only console that would be bundled with Final Fantasy XIII outside of Japan.
Earlier in the week, details of the US bundle leaked, before being formally announced last night.
The game's out on March 9. Packshot of the Super Elite bundle is below.