Sacred 2 is golden, invades Europe June 5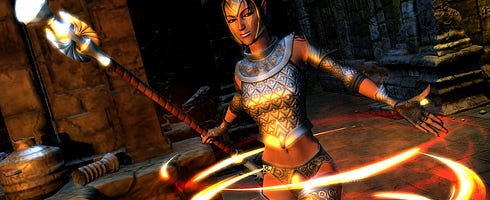 The console version of Sacred 2: Fallen Angel has reached gold status, and will release on June 5 for PS3 and 360.
The PC version was released in November last year.
Sacred 2 will arrive in the states May 12.
Press release follows.
SACRED 2 – Fallen Angel: console versions reach gold status
Deep Silver announces final release date for PLAYSTATION 3 and Xbox 360 versions
Deep Silver, the games label of Koch Media, a leading producer and distributor of digital entertainment products, announced that the console versions of SACRED 2 – Fallen Angel have reached gold status, and are due for release on 5th June 2009. SACRED 2 – Fallen Angel will be released for PLAYSTATION®3 and the Xbox 360® video game and entertainment system from Microsoft®.
Sacred 2 – Fallen Angel
SACRED 2 – Fallen Angel is a vast, detailed and deeply playable Action RPG. Assuming one of 6 uniquely identifiable characters players will embark on a thrilling story across two intricate campaigns set on the paths of Light and Shadow. SACRED 2 – Fallen Angel blends a seamless game world with solo and multiplayer gameplay, packed full of quests, character development, gritty adventure and deadly combat with hordes of deadly enemies.
Ancaria is a world without level boundaries, a world players can freely explore without any loading delays. With its huge attention to detail and high quality graphic style, SACRED 2 – Fallen Angel will enchant players from all over the world.
Official game site: www.sacred2.com
About Deep Silver
Deep Silver develops and distributes interactive games for all platforms. The Deep Silver label means to captivate all gamers who have a passion for thrilling gameplay in exciting game worlds. Deep Silver works with its partners to achieve a maximum of success while maintaining the highest possible quality, always focusing on what the customer desires. Deep Silver products are designed to equally appeal to pros and beginners, children and adults.
Deep Silver has published more than 80 games since 2003, including Anno 1701 (co-published with Sunflowers), Gothic 3 (co-published with JoWooD), the successful Secret Files adventure series, S.T.A.L.K.E.R.: Clear Sky, the Chernobyl shooter, the action role-playing game Sacred 2: Fallen Angel (co-published with Ascaron), and the Horse Life series of horse simulations. The company's own brands Risen (Xbox 360 and PC), the new role-playing game from the Piranha Bytes team, the urban MMO 7Million, the survival/horror game Cursed Mountain (exclusive on Wii), and the multi-platform action game Ride to Hell are currently being developed. Deep Silver's own production company in Vienna opened in 2007. For more information please visit www.deepsilver.com
Koch Media is a leading producer and distributor of digital entertainment products (software, games and movies on DVD). The company's own publishing activities, marketing and distribution extend throughout Europe and the USA. It has also formed strategic alliances with numerous software and games manufacturers: Kaspersky Labs, Nero, Cyberlink, PC Tools, Net Nanny, Cakewalk, Gotham New Media, AVG Technologies, Eleco, Mr Site, Braingame, Mindscape, Slitherine, RTL, Blade Interactive etc. Headquartered in Planegg near Munich/Germany, Koch Media owns branches in Germany, England, France, Austria, Switzerland, Italy, Spain, the Nordic regions, and the USA. www.kochmedia.com