Rainbow Six Siege trailer shows off Sam Fisher gameplay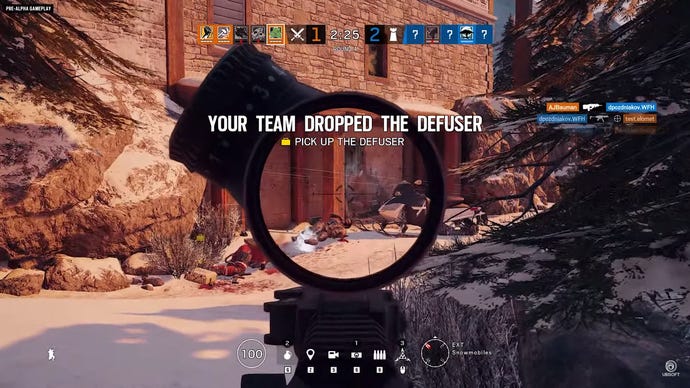 Last week Ubisoft announced that Sam Fisher would be coming to Rainbow Six Siege, but have since uploaded a brand new video breaking down his weapons and abilities.

You can check out the new trailer below, which includes gameplay footage of Fisher in action as well as some tips and tricks for those who are excited to play as the iconic Splinter Cell protagonist.
The video mentions that Fisher is here to join Team Rainbow with the codename "Zero." He's a medium speed, medium armor attacker, and his SC3000K assault rifle will be familiar to "fans of his previous work."
Fisher also has access to an MP7, as well as a silenced pistol that perfectly fits his Splinter Cell origins. On top of that, he has an Argus launcher that can be used to shoot cameras at hard surfaces. As well as offering you a way to spy on your enemies, each camera is equipped with a single laser that can be used to destroy enemy gadgets or deal minor damage to players on the other team.
Some other changes are also coming with Fisher's addition to Rainbow Six Siege, such as a ping system similar to the one in Apex Legends, a new mode that allows you to rewatch your last 12 games, a variety of new sights for your guns, and more.
In related news, the Italian voice actor for Sam Fisher recently teased the return of Splinter Cell, although it's important to note that he has hinted at a new game before and nothing materialized from it.
Given that Fisher appeared in Ghost Recon Breakpoint earlier this year, it seems that he's just doing the rounds of every Ubisoft game. I'm almost starting to think we're more likely to see a Sam Fisher cameo in Assassin's Creed Valhalla than a new Splinter Cell game.