PlayStation Phone blown wide open, fully previewed in China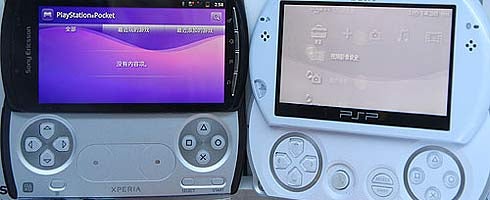 Engadget's carrying four videos of the PlayStation Phone from Chinese website IT168, and has apparently dropped full specs.
Engadget's claiming it's "now confirmed" that "said Xperia-branded device is powered by a Qualcomm Adreno 205 GPU, along with what's likely to be a 1GHz Snapdragon QSD8255 as featured on the HTC Desire HD."
Neocore is reporting an 59.1fps benchmark.
Quadrant also reports a high score of 1,733, but hey, there's no saying that this is the final build, so the graphics performance may get even better.
There's loads more, seemingly taken from a variety of sources. The phone is to have a battery capacity of 1,500mAh, a 854x480 resolution 4-inch LCD, a 5 megapixel autofocus camera with LED flash - but no 720p video recording, although this may just be an oversight on the part of the leakers - 512MB RAM, 512MB ROM, a microSD slot, SIM slot, micro-USB, and a second mic on the back for active noise cancellation.
The device's game launcher is called "PlayStation Pocket."
There's still no date on when any of this is going to be announced, with Sony being coy on the matter despite endless, horrific leaks.
The phone's currently codenamed Zeus, and is apparently based on PSone tech.