PES becomes eFootball, now free-to-play on consoles, PC and mobile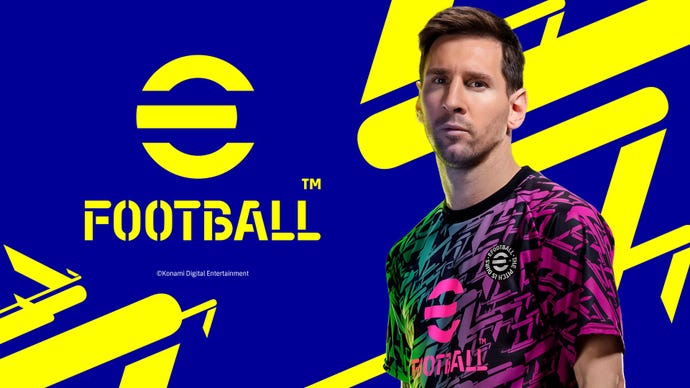 Konami has announced that it will be dropping the PES name for good. Its flagship football franchise is now named eFootball, and it will be free-to-play on consoles, PC, and mobile.
First, it was Winning Eleven. Then it was Pro Evolution Soccer. Now it's eFootball. Konami has once again changed the name of its long-running FIFA rival as part of a massive overhaul to how the game will work in the modern gaming climate. This is likely the game that Konami was mysteriously testing back in June.
Konami has announced that eFootball is a free-to-play, "all-new football simulation platform" developed in Unreal Engine and targeting an autumn release on PS4, PS5, Xbox Series X|S, Xbox One, and Steam, before launching on iOS and Android later.
Cross-platform play will arrive post-launch, but cross-generation play will be available at launch. You can see the promised roadmap of other content en route to the game over the course of the year below.
Local matches featuring FC Barcelona, Juventus, FC Bayern, Manchester United, and others will be available, for free, at launch and Konami is set to make announcements about what other clubs and play options will be added further down the line. Some of those modes will be paid, though Konami didn't confirm the specifics.
One of the highlighted features of this new realization of the PES games is what Konami calls "Motion Matching". This tech apparently "converts the vast range of movements that players make on the pitch into a series of animations, selecting the most accurate one in real-time" which means there are four times as many animations in the game compared to previous entries. Sounds a bit like FIFA 22's Hypermotion to us.
"Starting with the strong foundations of Unreal Engine, which has allowed us to massively overhaul player expression, we've made a number of modifications to virtually create a new football game engine that will power eFootball for years to come," said series producer, Seitaro Kimura.
Konami promised more information and gameplay details to be revealed in late August.