Please don't shoot yourself in the head with Persona 3 Portable physical edition's replica gun
Plus, a physical edition is on the way for Persona 4 Golden.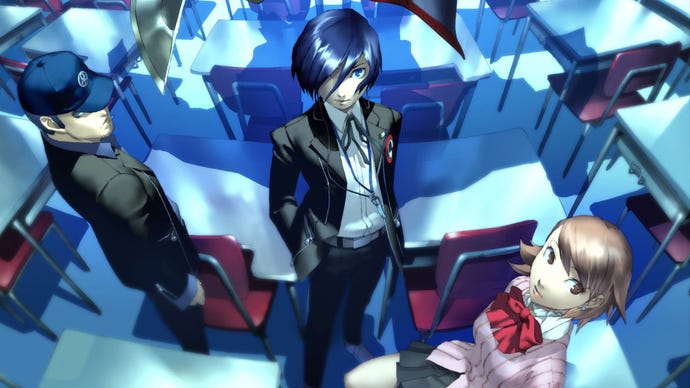 Persona 3 Portable is getting a physical edition from Limited Run Games, and there's even a collector's edition that comes with the game's signature Evoker.
Earlier this year, Persona 3 Portable arrived on PC, PS4, Switch, and Xbox digital storefronts, making the game available on modern platforms for the first time in a long while. But now you'll have the chance to pick the game up physically, as yesterday Limited Run Games announced that it would be producing a (would you guess it) limited run of the game. It will still be available on PS4, Switch, and Xbox, but there are also a couple of fancy editions, and yes, the fanciest version comes with a scale replica of the game's iconic Evoker, a literal gun.
Watch on YouTube
The slightly fancy version, the Grimoire Edition, comes with a fancy grimoir book box and slipcover, a physical version of the game, and a steelbook, so nothing to write home about honestly, which will set you back $70. If you want your own Evoker, though, you'll want to pick up the S.E.E.S. Edition, which comes with all of the above, alongside a S.E.E.S. armband, a certificate of authenticity, character trading cards, the game's soundtrack, a school patch, an "all out attack 3D shadowbox," and of course, a 1:1 Evoker replica shadowbox which lights up. This one will, unsurprisingly, set you back $200 though, so you might want to save up. Pre-orders go live September 29, and run until November 12.
Limited Run Games also announced that it's working on a physical edition of Persona 4 Golden, which has previously only been available on the PS Vita physically, making digital the only way to play it currently. Persona 4 Golden won't be available to order until October 27, though, so if you're more interested in that you might want to hold off from ordering Persona 3 Portable.
Of course, you could always wait until next year's remake of Persona 3, Reload, which looks like it's shaping up quite well currently.
Get fully loaded with the Persona 3 Portable S.E.E.S. Edition! This mother of all collector's editions includes extra premium goods, like trading cards, a shadowbox & a light-up, 1:1 replica of the Evoker!

Pre-orders launch on September 29th. Learn more: https://t.co/sygwRPynXw pic.twitter.com/3c34gGOzig

— Limited Run Games (@LimitedRunGames) September 25, 2023