Penny Arcade founders land on annual TIME 100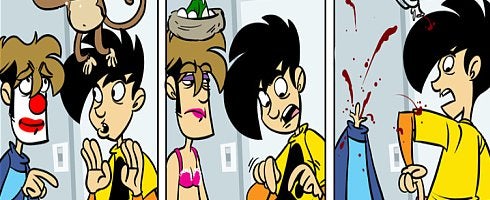 The voting is complete for Time magazine's top 100 most influential people, and on it in the artist section are Penny Arcade founders Jerry Holkins and Mike Krahulik sitting at number 14.
There's a nice write up about them there too, although it is short.
Voting started earlier in the year, and you can get the final results on all those who made it on the list through here.
Here's where the guys stand on the artist list:
Lady Gaga
Conan O'Brien
Kathryn Bigelow
Oprah Winfrey
Valery Gergiev
Robert Pattinson
Ashton Kutcher
Suzanne Collins
Taylor Swift
Neil Patrick Harris
Carlton Cuse and Damon Lindelof
Prince
Lea Michele
Jerry Holkins and Mike Krahulik
Simon Cowell
Neill Blomkamp
Elton John
Marc Jacobs
David Chang
Banksy
Chetan Bhagat
Sandra Bullock
Ricky Gervais
Han Han
James Cameron
We're not sure who all voted, but in all seriousness, what in Sam Hill has Ashton Kutcher ever done to warrant such distinction? Demi Moore, possibly.
Anyway, gratz to the Penny Arcade guys. We're proud of you.