OlliOlli developer Roll7 reveals first screens & details of 2D cover shooter Not a Hero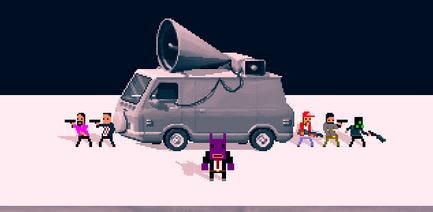 Not a Hero is the next title from OlliOlli developer Roll7, and the studio has released a trio of new screens of the 2D cover shooter. It's heading to PC this summer.
In a press release, Roll7 confirmed the shooter is also coming to undisclosed consoles and PC via publisher Devolver Digital. It sees gunslinger Steve employed by - and we quote - "an anthropomorphic rabbit/mayoral candidate from the future named BunnyLord," to clean up the city streets before election day.
The aim is to clear up all five city districts using gunplay, sliding, diving, ducking and hiding behind cover as you engage an army of goons. It also features a sound-based mechanic that sees enemies advancing on you in numbers if they hear you reloading your gun, as well as offering multiple playable heroes.
You can fight enemies unarmed if you're a nutter, a variety of firearms, or slice them up with a katana. SWAT teams can randomly interrupt your mission and raise the difficulty level as well, which sounds quite brutal.