Nintendo Direct March 2018: Undertale, Little Nightmares, Sushi Striker, Luigi's Mansion and more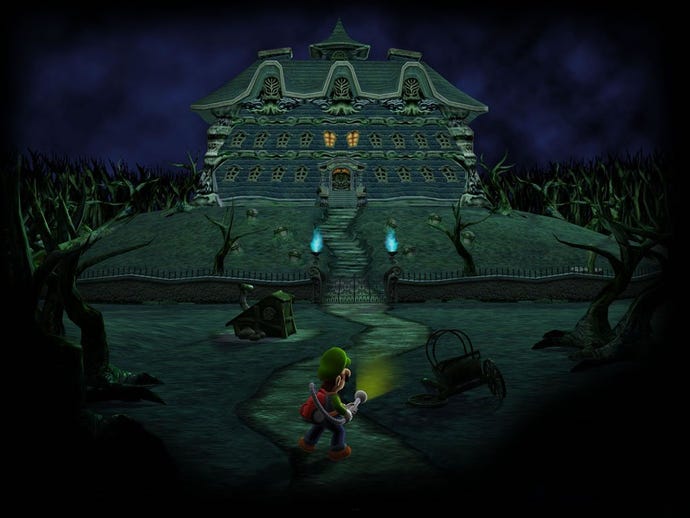 A Nintendo Direct focusing on 3DS and Switch aired this evening and it featured all sorts of news on upcoming titles.
Various 3DS and Switch titles were given release dates, and there were some new announcements tossed in for good measure.
We already covered the Dark Souls Remastered online test and amiibo, Okami HD, Super Smash Bros., Crash Bandicoot N.Sane Trilogy, and South Park: The Fractured But Whole, along with Splatoon 2 DLC and Mario Tennis Aces. Just click on those lovely links for more information.
Information provided during the presentation is broken down by platform below, with trailers if available.
Nintendo Switch
During the March 2018 Nintendo Direct, Kirby Star Allies was given a release date. It was also announced fan-favorite legacy characters can become Kirby's Dream Friends.
Eventually, more Dream Friends will be added to the game through free updates with the first one arriving on March 28. It will add Marx, Gooey and character set "Rick & Kine & Coo" to the game.
Kirby Star Allies releases on Switch March 16 and a free demo for the game is currently available on the eShop.
Here's some news that will please Switch owners: the million-selling Undertale will make its way onto Switch - "eventually."
Undertale, 'the friendly RPG where no one has to die', was release on PC in 2015 before making its way to PS4 and Vita in 2017. It's been on our Steam wishlist for a while, and we have no idea why it isn't in our library yet. We need to remedy that. Soon.
Octopath Traveler producer Masashi Takahashi from Square Enix revealed new details about the upcoming RPG during the presentation.
Previously known as Project Octopath Traveler, Takahashi introduced two more main characters: Tressa the Merchant and Alfyn the Apothecary. The ability to equip multiple jobs per character for use in battle was also announced.
Octopath Traveler will be released exclusively for Switch on July 13. The Octopath Traveler: Wayfarer's Edition, a special edition bundle that includes a pop-up book cloth map, Sound Selections CD and a replica coin based on the in-game currency, will arrive alongside the standard version of the game.
Little Nightmares: Complete Edition will be released on Switch May 18 and supports the Pac-Man amiibo of all things. Tapping it will unlock the Pakku Mask when playing.
The Complete Edition contains contents from the Little Nightmares: Secrets of the Maw expansion pass: The Depths, The Hideaway and the recently released The Residence.
Captain Toad: Treasure Tracker, which originally released for Wii U, is coming to Nintendo Switch. The new version includes new miniature courses based on various Kingdoms in the Super Mario Odyssey game.
It can also be played with others by sharing a pair of Joy-Con controllers. One player controls Captain Toad, the other assists with turnip cover fire, for instance.
Captain Toad: Treasure Tracker releases on July 13 alongside a Nintendo 3DS.
Sushi Striker: The Way of Sushido, which was originally announced for 3DS at E3 2017, was announced for Switch during the Nintendo Direct presentation.
The action puzzle game tasks players with devouring conveyor-belt sushi, matching plates and throwing them at enemies. It features a multiplayer mode, and players compete locally or online against others.
Sushi Striker: The Way of Sushido is out on June 8 for 3DS and Switch.
Announced in August 2017, new gameplay for Travis Strikes Again: No More Heroes was shown in the presentation around the 11:49 mark. While a release date was not provided, we did learn a tiny bit more about the Switch-exclusive, Grasshopper Manufacture title.
As previously reported, Travis and Badman have been transported inside a phantom game console called Death Drive MK-II. Developed by Doctor Juvenile, the consoles has seven games installed, and whoever collects and beats them all will have their wishes granted.
These games run the gambit of action, and puzzle, according to the Nintendo Direct. In the game, Travis uses the Beam Katana to take down enemies and dangerous bosses all the while fighting Badman using the Joy-Con controller. Another players can use another Joy-Con for some co-op fun.
Travis Strikes Again: No More Heroes launches exclusively for Nintendo Switch this year.
A release date for Hyrule Warriors: Definitive Edition was provided this evening. This edition includes every map and mission, plus all 29 playable characters from both the Wii U and the Nintendo 3DS version, Hyrule Warriors Legends.
It will also include all of the previous paid downloadable content when it releases May 18 on Switch.
For those playing ARMS or those who want to play ARMS, a new global Testpunch will be running for three days starting on March 31. To participate, players just have to download the Testpunch for Switch through the eShop.
Also, and ARMS US and Canada Online Open Tournament will take place in the Nintendo Switch game's Ranked Match mode now through March 18. The top players eight in these preliminary rounds will have an opportunity to move on to the online finals on March 31.
Nintendo 3DS
Here's a bit of news that made a certain someone at VG247 jump out of her seat: The original Luigi's Mansion is coming to 3DS this year.
Luigi's Mansion was a launch title for Nintendo GameCube way, way back in 2001. Nintendo said during the direct presentation the game features an updated look and new features such as a map that displays on the bottom screen. It also features a boss rush mode.
Now, just bring a remastered version to Switch, please. Thanks.
The frenetic WarioWare series is making a return, and this time it's on 3DS. WarioWare Gold will feature 300 microgames that can be controlled by pressing buttons, tilting the system, tapping the touch screen or using the microphone.
WarioWare Gold will also feature fully voiced characters for the first time when it releases for 3DS on August 3.
Mario & Luigi: Bowser's Inside Story + Bowser Jr.'s Journey is a 3DS remake of the DS title Mario & Luigi: Bowser's Inside Story.
Mario & Luigi: Bowser's Inside Story was the third entry in the RPG franchise for the DS and features Mario and Luigi being shrunk and inhaled by Bowser. The duo will explore organic environments inside the grumpy monster, such as his stomach, arms and legs as they try to escape.
The 3DS version will feature new graphics and a new mode that tells the behind-the-scenes story of Bowser Jr.
Mario & Luigi: Bowser's Inside Story + Bowser Jr.'s Journey isn't out until next year, so we'll have to wait a while.
A sequel to Dillon's Rolling Western, Dillon's Dead-Heat Breakers, was announced for 3DS durning tonight's Nintendo Direct. The game continues the story of the original and finds armadillo ranger Dillon teaming up with an "animalized version of the player's Mii character."
The two will help stop enemy invasions and save the post-apocalyptic frontier. Dillon's Dead-Heat Breakers wil release through the eShop for 3DS on May 24. A demo for the game will be available to download on May 10.
If you missed the March 2018 Nintendo Direct you can watch it on demand below.