Nintendo announces Switch as the final name for the NX and gives it a release date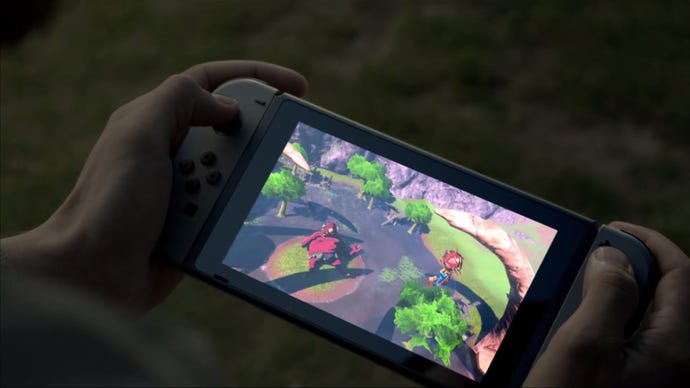 It's finally happened. Meet the Switch.
Nintendo has finally announced its next piece of video game hardware - and it's called the Nintendo Switch.
Announced in a short video today, the Switch is the final official name of the project that for a long time has been known as the Nintendo NX.
It's going to be coming out March 2017.
After the struggles of the Wii U, the system marks a significant shift in stance for the company. Nintendo's always all about reinvention, and this is it trying to do that once again after the dual-screen gameplay that made the DS so popular failed to translate to home machines with the Wii U.
As reported in a slew of rumours before this announcement, the Switch merges the handheld and home console businesses of Nintendo for the first time. The Switch can be used in your living room on a TV as a home console with what appears to be some decent horsepower, but then can also be taken away and played anywhere you go as your 3DS could.
This is an interesting move since it brings together Nintendo's first party development houses under one piece of hardware. For 27 years Nintendo has operated development branches for both their handheld machines and for consoles, but for the NX their myriad teams need only create one game for one platform that'll serve both purposes.
It's a concept that has gained praise - the boss of Ubisoft called it "fantastic", while it also got the thumbs up from the head of The Pokemon Company, which is run separately from Nintendo proper.
The first major game for the Switch will be The Legend of Zelda: Breath of the Wild, which Nintendo confirmed would be launching for its new hardware as well as Wii U back at E3 in June. Previous rumours pegged Zelda, Mario and Pokemon as major Nintendo franchises that would launch within the first few months of the Switch.
The next Sonic the Hedgehog outing is also confirmed for the machine. Square Enix has also confirmed Dragon Quest will also be making its way to the machine.
The trailer also provides glimpses of Skyrim, Mario Kart, NBA 2K and Splatoon.
All this madness is still breaking, so more as we get it.