New Spike teaser drops mega-hint: new Resident Evil incoming?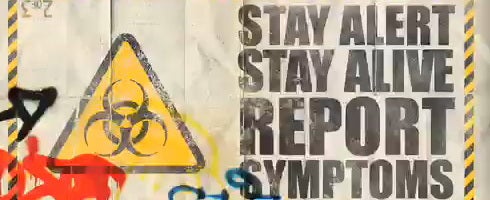 Spike's gone live with another trailer teasing the VGAs, and there looks to be a great big Resident Evil hint in there.
The latest trailer further teases the "Infected" reveal with another image containing the words, "Stay Alive, Stay Alert, Report Symptoms", being visible for a split-second if you pause the trailer when it asks you to "looks closely" at seven seconds in.
This image may crush earlier guesses that this might have to do with Valve or a new Left4Dead reveal. As you can see, the image clearly contains a BioHazard symbol.
If that's not enough, it asks you to report symptoms. "Infected", a BioHazard symbol and reporting symptoms: let's add three and make ten.
As Gamerzines points out, one of the zombies in the first teaser image looks the same as one of the cut-outs on an old Resident Evil shirt. And when we says "looks", we mean "is".
Resident Evil: Raccoon City was rumoured to be in development at Slant Six – the studio behind SOCOM: Confrontation, as well as Tactical Strike and Fireteam Bravo 3 on PSP – earlier this month.
Expect another one of these before the awards: this is image two of three, as it says in the corner of the image.
We'll find out on December 11 when VGA 2010 airs.