Modern Warfare 2 Stimulus Pack day - win a branded Super Elite!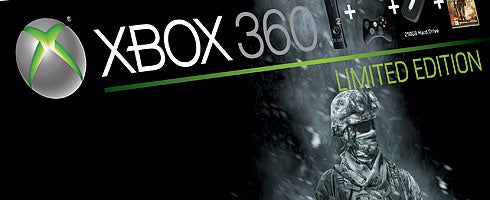 To celebrate the release of Modern Warfare 2's first premium map pack, Microsoft's passed over a branded Super Elite 360 to give away.
Want it?
The pack includes a MW2-branded 360, two wireless controllers, a 250HDD and a copy of the game. Whichever way you cut it, that's pretty much awesome. There's a pic of it below.
Let's play a game. Draw a picture on the theme of "stimulation". Stick a link in the comments. Best one wins.
We'll announce the lucky artist tomorrow. Get to it. Note that you can live anywhere to win this. We don't care.
Modern Warfare 2's Stimulus DLC includes five new maps: Bailout, Salvage, Storm, and classic maps Crash and Overgrown. It's releasing today at around midday BST.
The DLC is exclusive to Xbox Live for at least 30 days, and will be coming to PS3 and PC down the line, but no exact date has yet been given for both platforms.