Minecraft Dungeons is getting a new Season Pass with four DLC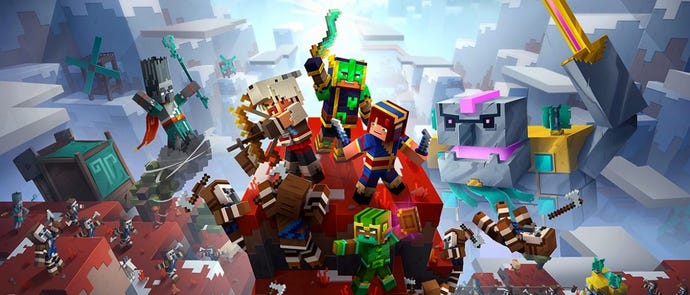 Mojan has announced a new Season Pass for Minecraft Dungeons along with a release date for the next DLC.
The Howling Peaks DLC for Minecraft Dungeons will be released on December 9 alongside the Season Pass.
Howling Peaks takes place on a mountain top and comes with new armor, weapons, artifacts, and new enemies such as the Squall Golem and Mountaineer.
In it, the Tempest Golem has been corrupted by a shard from the Orb of Dominance. There are many new features as well to be announced at a later date.
With the new Season Pass, you'll have access to the next four DLCs as soon as they become available, including Howling Peaks, which will come at a discount compared to purchasing each drop separately.
Each DLC will include new levels, unique items, new parts of the story, and even more puzzles and mysteries.
Alongside the new DLC comes a free content update that includes six enchantments.
This is the second pass to be released for the game. The first one, the Hero Pass, includes the Jungle Awakens and Creeping Winter DLCs, a Hero Cape, two-player skins, and a chicken pet.
The latest DLC released for the game was Creeping Winter back in September. It is the second drop for Minecraft Dungeons and follows Jungle Awakens which was released in July.
Minecraft Dungeons received cross-play last week and is supported on Nintendo Switch, PlayStation 4, Windows, and Xbox One.