Microsoft expects many Christmas trees with Kinect and Black Ops underneath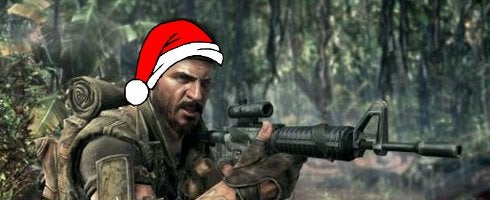 Xbox UK marketing boss Stephen McGill has Mirosoft expects there to lots of Christmas trees this year with Kinect and Black Ops under them, wrapped up all nice and with bows.
Speaking with CVG during Kinect's launch event in London this week, McGil recons the offerings for Xbox 360 is a "better line-up" than its had "in years for Xbox 360 or any platform".
"I think [consumer's] eyes are on Xbox and Kinect," he said. "They're on Xbox because the best place to play Black Ops is on Xbox 360 - it's the only place you're going to get that exclusive content first and that's a big deal for gamers. I think Kinect is a big deal for gamers too and I think they're interested in that too.
"I think there's going to be a lot of Black Ops under Christmas trees and I think there's going to be a lot of Kinect under the Christmas tree. [Kinect has] games like Kinect Sports, and while they are incredibly accessible, there's a lot of depth to those games. Something like Dance Central... no-one will tell you that with their heritage - Rock Band and Guitar Hero - that it's not the sort of genre that will expand core audiences, and I think Dance Central is going to be the same.
"And we've got some great entertainment services on Xbox 360 and Xbox Live that become even better with Kinect. So I think there's something for everyone.
"Obviously we've got a great line-up of games for gamers - things like Halo Reach, Fable III, Call of Duty and FIFA - for this Christmas. We haven't had a better line-up in years for Xbox 360 or any platform."
He's probably right. Black Ops has already been dubbed the biggest entertainment launch in history and early reports from the US indicate Kinect sold out rather fast during launch.