Levine: We won't show new game for "some time"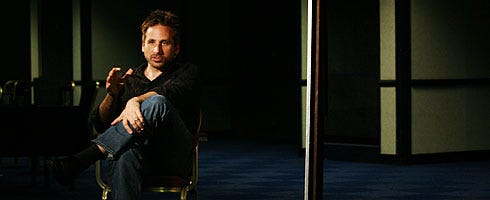 BioShock legend Ken Levine's said there won't be a sniff of his new, super-secret project for a while yet.
"Our new project is something we're champing at the bit to talk about," he told Gamespot.
"But we're not showing it to anybody and won't be for some time. In fact, the only way to get a look at it is to interview for a job with us."
Levine did expand a little on the game, giving out the most detail on the title so far.
"Boston is focused on our next project, which will probably come as a huge surprise to our audience and yet at the same time will make total sense once they see it. I will say that we're clicking on all cylinders," he said.
"Besides delivering on the narrative experience we're known for, it will include a type of gameplay that is completely new to us--something the BioShock team has never really explored in depth before. In all areas (art, design, and programming), we spend half our day being totally psyched, and half our day wondering what we've gotten ourselves into. We're kind of humbled by the challenge.
"We've been in a huge recruiting frenzy to staff up for it. We've got a gaggle of Boston folks going to GDC next week to show the colors and press the flesh. In a world where world-class, brilliant developers like Ensemble no longer exist, I'm pleased to say we're hiring. Maybe some of the industry's brilliant refugees will seek out our staffers in their 'Be big in Boston' shirts at GDC. You know, 'Give us your tired, your poor, your huddled experts in C++.'"
Expect more titbits from GDC next week.