Kazuya arrives in Super Smash Bros Ultimate tomorrow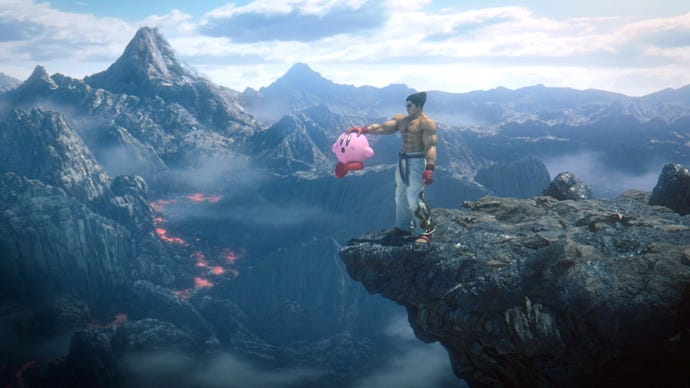 Tekken's Kazuya Mishima arrives in Super Smash Bros. Ultimate as a new DLC character tomorrow, Nintendo has announced.
Nintendo revealed during its E3 2021 Nintendo Direct that everyone's favorite patricidal maniac would be joining the Smash roster, but only now have we been given the release date for the angry so of Heihachi Mishima.
Tekken's Kazuya is the penultimate Super Smash Bros. Ultimate DLC character and will be available in the game as part of Fighters Pass Vol. 2.
Speaking of the Fighters Pass Vol 2., Sakurai revealed during a special livestream dedicated to Kazuya that after Kazuya and one as-yet-unannounced final fighter, there will be no more characters arriving in Super Smash Bros. Ultimate.
"Up until now, we've created all sorts of fighters and stages," Sakurai said in the presentation (above). "Gathering all of these games, new and old, and compiling them into a single product is a task that has meant a lot to me.
Since its release back in 2018, Smash Bros. Ultimate has seen many new fighters arrive via DLC, from Persona 5's Joker to Final Fantasy 7's Sephiroth.
"Now that I think about it, it's been close to 10 years since Super Smash Bros. for Wii U and Nintendo 3DS was in development. I've been working on this for a long time. You could call it my life's work.
"But finally, the next DLC fighter will be the last one. There won't be any more after that. It'll be a while before that announcement, but it'll be available this year as planned, so please be patient. It seems like the team will have to complete this project at home, right up until the end."
So don't expect a reveal on that final fighter anytime soon. But do understand that it will indeed be the last character added to the game. Expect to have the final character in your hands by December 21, 2021, though.
In terms of who the final character almost certainly isn't going to be, we've been given a very clear idea.
Nintendo announced the next set of Mii Fighter costumes that will launch with Kazuya, and they are:
• Lloyd from Tales of Symphonia
• Dragonborn from Skyrim
• Shantae from the Shantae series
• Dante from Devil May Cry
Whoever the final new character is going to be, then, it'll be someone other than what fans have been loudly clamouring for over the past few years. It seems Smash Bros. has one last big trick up its sleeve yet.