In this new Injustice 2 trailer, Brainiac arrives on Earth and brings destruction with him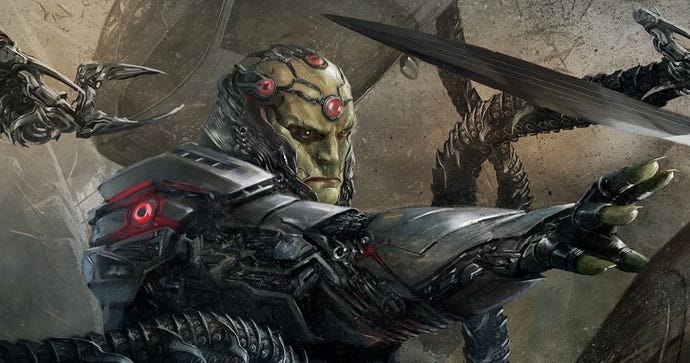 Brainiac isn't too pleased with anyone or anything in this new Injustice 2 trailer.
The fifth in the Shattered Alliances video series, this Injustice 2 video highlights the mastermind who is "at the heart" of the conflict between some of our favorite superheroes. He isn't very fond of Superman either, but hardly anyone is in this game it seems.
Brainiac is obsessed with obtaining knowledge, and he is well-versed in destruction, as you will see. And he really wants to destroy the Earth. Aliens always want to destroy the planet, or conquer it. That's given with 90% of sci-fi novels and comics, it seems.
The green-skinned fella considers himself a "world collector" though, and his favorite pastime is shrinking cities down and storing them in bottles. He did this with Kandor, which was once a huge city on the planet Krypton. Brainiac then takes these cities in a bottle to his Skull Ship, and then, he destroys the planet.
There are numerous variations of the fella in the DC Universe, but it seems as though Netherrealm is going with the familiar version of the jerk we all love to hate.
If you missed the previous videos in the series, you can watch Shattered Alliances 1, Shattered Alliances 2, Shattered Alliances 3 and Shattered Alliances 4 through the links.
Injustice 2 will be released on May 16 for PlayStation 4 and Xbox One.