Homefront: The Revolution is open-world, out 2015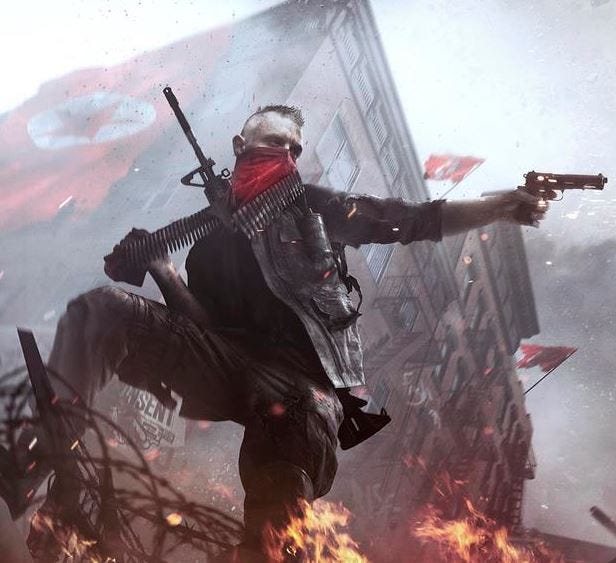 Homefront: The Revolution has been revealed by developer Crytek UK for a 2015 launch on PC, PS4, Xbox One, Mac and Linux. We've got all the plot details, a trailer, gameplay information and screens.
"What would you do for your freedom?" That's what the open world shooter's tag-line asks.
Homefront: The Revolution takes place in Philadelphia, four years after North Korea claimed America. The city has become a ghetto that is regularly patrolled by soldiers and automated drones, and where civilians live in fear under the oppression of a police state.
Beyond the city lies the 'badlands,' a red zone where the seeds of revolution are forming thanks to a guerrilla band of rebels working to overthrow the dictatorship and achieve independence once more. The open world is said to react to your actions as you trigger the new revolution, but as always the Koreans have advanced weaponry and technology. Players will also engage enemy forces in un-scripted gun battles using homebrew weapons.
Hasit Zala, Game Director at Crytek, said in a statement, "Homefront: The Revolution stands out from the crowd by immersing players in a world where they'll feel emotionally compelled to fight for their freedom.
"We're very excited to work with Deep Silver and deliver an experience that underlines Crytek's commitment to quality whilst tapping into the huge potential we saw when we first acquired the Homefront IP."
The game's initial press releases promises solo and co-op play, where gamers can work together to establish their own resistance cell and fight back against their oppressors.
Bullet points from the release read:
Explore a living, breathing open world - experience true open world gameplay in a first person shooter, brought to life with astonishing CRYENGINE-powered visuals
Wage Guerrilla Warfare - this is no linear shooter; learn the art of guerrilla warfare and use ambush, infiltration and hit and run tactics against your foe in thrilling un-scripted firefights
Build the Resistance - recruit revolutionaries to the cause, establish bases and safehouses, capture and customise a deadly arsenal, and build improvised, homebrew weapons for your Guerrilla Tool Kit
Ignite the Revolution - from oppressed citizen to revolutionary leader, an epic single-player campaign tells the story of the second War of Independence. The dynamic, evolving world responds to your actions as an oppressed nation rises up in defiance against the occupation
Online Co-OP - take the battle online, form a Resistance Cell with your friends and earn your reputation as Heroes of the Revolution
Hop on through for the first batch of screens and the reveal trailer.
Publisher Deep Silver just sent us the following screens:
Yup, the North Koreans seem to be packing some advanced weaponry right there.
Is this the protagonist? If so, he looks in pretty bad shape.
Supply caches and subway network hovels? Smells like Metro: Last Light.
Check out the big flying warship in the distance.
Viva la revolution!
Surely a waste of good hooch?
Quadrotor drone confirmed.
Lastly, we've got the debut Homefront: The Revolution trailer for you to check out.
Want even more? Check out the newly-opened Homefront: The Revolution website.
Homefront: The Revolution is out in 2015, and with E3 2014 looming, we're expecting to hear more shortly.
What do you think so far?