Homefront: The Revolution's credits include a comment on game's troubled development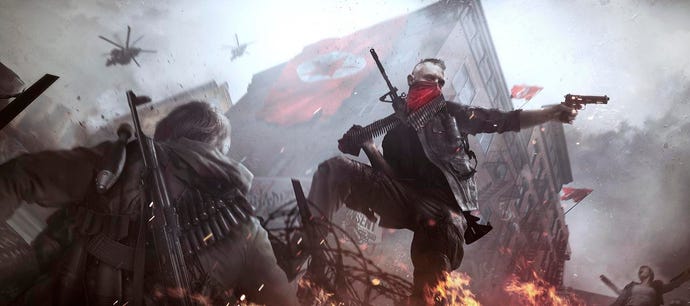 The credits for Homefront: The Revolution include a very unusual message.
Homefront: The Revolution's credits include a comment on game's troubled development
In the end credits for Homefront: The Revolution, developer Dambuster left an unusual message acknowledging the game's troubled development.
Appearing at the start of the credits, the message is forwarded by studio head Hansit Zala. It reads, "Homefront: The Revolution has been in development for just over four years, and as some of you may be aware, the path has not always been a smooth one.
"Several reboots, the original publisher going into liquidation, the development studio changing ownership... I could go on. Thankfully, throughout all these difficult times, key people have kept faith and believe in the IP and the team's ability to deliver a quality game, and I would especially like to acknowledge Klemens Kundratitz' and Huw Beynon's unwavering support, without which this game and this studio would not exist.
"For the team members that have made it to the end, I salute you for your endeavour. To create a game of this size and complexity with a relatively small team is a remarkable achievement. For those that we lost along the way, I would like to thank you all for your contributions, and you will find your names in the special thank you section.
"Finally, for all of you that have enjoyed playing the game, I promise you - this is just the beginning."
The story of The Revolution's troubled development is a long one. The game, and the IP, was originally owned by THQ. THQ funded the sequel and tasked Crytek UK, formerly Free Radical, with developing it. The publisher then went bankrupt and was forced to sell the IP.
Deep Silver later picked it up later and bought Crytek UK, following financial trouble at Crytek which caused developers to go without pay for months, and definitely affected the game's development schedule.
The studio was later renamed to Dambuster, and things continued on from there.
Thanks, @DrKarateChop.