Hatred becomes second game to be handed AO rating for language, violence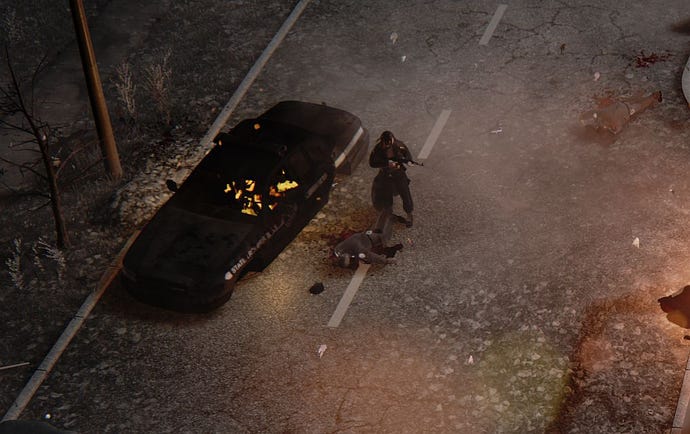 Hatred, the shooter from Destructive Creations, has been handed an AO [Adults Only] rating in the US by the ESRB despite the game's lack of sexual content.
While the developer said it would have preferred an M [Mature] rating instead, it feels fans would have been disappointed if content had been cut in order to garner a less severe rating.
"[We] would prefer to get a standard M rating, because with AO we will have problems to get to consoles in the future, but on the other hand I think you guys (our fans) would be disappointed with it," the developer stated on the game's forum (sign in required). "I'm curious what PEGI will give us."
The ESRB usually hands out an AO rating to games which contain sexual content or the ability to gamble for real money. In this case, the developer was told by a representative from the ratings body the AO decision was made due to the game's violence and "harsh language".
"[We're] not convinced why Hatred got AO rating while it lacks any sexual content, but it's still some kind of achievement to have the second game in history getting AO rating for violence and harsh language only," the developer continued.
"Even if this violence isn't really that bad and this harsh language is not overused. The guy from ESRB (very nice, polite and cooperative) told me it's all about 'the context' which people they're testing gameplay video on will see."
Hatred is the second game to receive an AO rating for such content, the first being Thrill Kill, a fighter developed for PlayStation One which was never released.
Other games which were handed an AO rating saw cuts made in order to achieve an M rating. These titles include Manhunt 2, Grand Theft Auto: San Andreas (remember Hot Coffee?) and Fahrenheit (Indigo Prophecy) among others.
Hatred has been Greenlit on Steam despite being pulled from the service at once point by Valve. It was eventually reinstated at the request of Valve boss Gabe Newell who apologized for the pull.
Via Eurogamer.