GTA Online: after 5 years, the casino could finally be about to open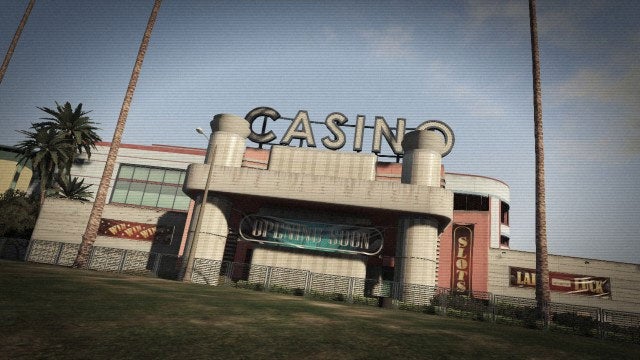 It looks likely that after more than five years, the casino in GTA Online will finally open.

GTA Online's casino has been on the Los Santos map since day one, but unlike locations such as the Bolingbroke Penitentiary - which opened as part of the Heists update - players have never been able to enter the building or gamble there.
But recent script changes, mined by TezFunz2 - one of the original GTA Online dataminers with a history of accuracy - suggest a series of timed changes will update the casino in-game until it eventually opens up its doors.
More context:
You will actually see the area near the casino changing in-game (check next week), as we move closer to release.
Some props will disappear and new ones will appear, R* is going to make it look like the casino is under construction to open very soon.#GTAOnline

— Tex2 (@TezFunz2) June 6, 2019
There have been multiple rumours that Rockstar would open the casino in GTA Online before, but aside from exploitation of money glitches there's always been the overhanging concern of gambling in a game that lets you purchase in-game GTA$ via Shark Cards with real-world money.
However, a recent change to Rockstar's other open-world game, Red Dead Online, has introduced poker. Red Dead Online has two currencies; gold bars and dollars. Gold bars can be bought with real-world money, but dollars, which are used for gambling in-game, can't.
If GTA Online was to introduce a second currency - chips, for instance - it would finally make the casino a viable and new location for Los Santos residents. It also makes sense that Rockstar would trial gambling live in Red Dead Online before introducing it to its real money spinner, GTA Online.