Poker and new missions arrive in Red Dead Online, with tools for roleplayers coming this summer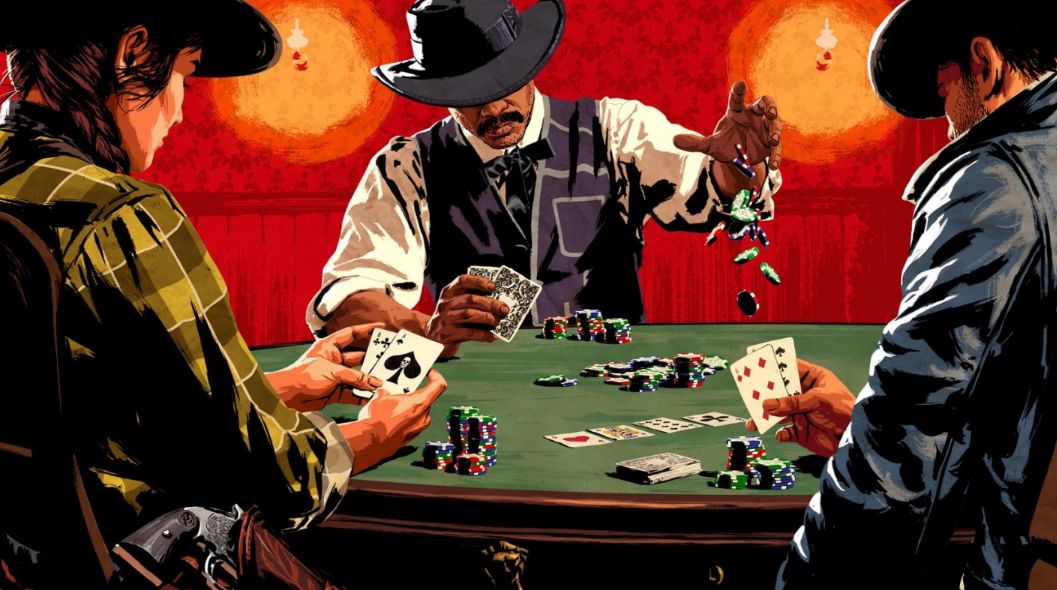 Move over, Gwent: poker has come to Red Dead Online in an update that also introduces new missions and dynamic events, as well as laying the groundwork for new roleplaying opportunities.
The game leaves beta today, as Take-Two suggested it soon would in the publisher's earnings call.
Poker tables appear in five towns and outposts - Blackwater, Saint Denis, Tumbleweed, Valentine, and Flatneck Station. There you can challenge up to five friends to invite-only games of Hold 'Em, or play at public tables for higher potential rewards. Emphasis on 'potential': that's virtual gambling for you. Players will be gambling for in-game cash, but you won't be able to buy-in with those microtransaction gold bars, thankfully.
On the mission front, Red Dead's rolling saga continues with A Land of Opportunities, in which you'll help Jessica LeClerk find the truth behind her husband's death. Red Dead includes a moral aspect which affects mission choices, so with this update you'll either be battling the Del Lobos gang or helping out during a highway robbery and bank heist. Whichever path you choose, it'll conclude with a deadly encounter in Blackwater. There are new characters kicking about in free roam missions from today too, some of whom you might recognise from Red Dead Redemption 2's storyline.
Outside the scripted plot, you'll start to notice dynamic events appearing across the frontier - townsfolk who need help dealing with local trouble, or the opportunity to create trouble for lone riders yourself. These events will often offer XP, honor, cash, and gold.
In anti-griefing news, this update lets you set offensive and defensive playing styles to determine what happens when you meet another player. Offensive is your standard setting, allowing for open hostilities, while defensive shuts off the PvP part of the game for as long as it's enabled.
Then there are the changes still to come, intended to serve Rockstar's burgeoning roleplaying community. "Future updates will offer new ways to fully inhabit your character as you progress in multiple roles and carve out your own place on the frontier," Rockstar says.
From the summer, you'll be able to take on a role as a bounty hunter, treasure hunter, or camp trader. Each position brings unique mechanics, outfits, weapons, and rewards, and you're not limited to just one.
The news follows a Take-Two financial report that promised many more updates for Red Dead Online. "This is just the beginning," Rockstar says. "The future of Red Dead Online includes brand new experiences that establish a deeper, more immersive connection to the world and your character."
Here's Rockstar on some of the other improvements to come with the update:
Removed Auto-Aim Headshot Tracking (Enemy Players Only): This subtle but important change affects the way players can earn headshots against rival players. While auto-aim still tracks to the center mass of an enemy player, you will no longer be able to simply flick up on the Right Stick to gain a headshot. This makes earning headshots slightly more challenging, which in turn makes competitive gameplay such as Showdown series more rewarding and balanced.
Faster Weapon Swaps/Instant Projectile Lighting: We have increased the speed of weapon swaps across the board, including instant projectile lighting to make throwing fire bottles and dynamite faster.
New Control Scheme – "FPS2": In response to community feedback we've added a new control scheme FPS2 (+variants). This follows our 'FPS' layout but moves sprint to [R1] and crouch to [X]. (This option is available in both Red Dead Redemption 2 and Red Dead Online).
Daily Challenge Updates: In response to your feedback, we've removed all PvP-related Daily Challenges from Free Roam and added a number of new Daily Challenges and Rewards, including Challenge Streaks with progressively increasing Gold rewards.
New Awards: Several new awards in Free Roam have been added including awards associated with the latest gameplay.
Global Signal Timers: Players tackling Free Roam Missions will have a bit more flexibility to operate with an increased global signal timer and a reduced range at which players are signaled.
Press Charges: When a lower Hostility player is killed without retaliating they will have an option to "Press Charges" during the respawn period, which will enforce an increase on their attacker's Hostility and Bounty value. Press Charges is not available if you are a high Hostility player or marked as an enemy to the player who killed you.
Horse Specialty Selection: You can now use the Player Menu to preset which of your owned horses you would like to use in Free Roam, Races, Showdown Modes and on missions.
Increased Gold Payouts: We have adjusted the economy to increase Gold payouts across the board, with most Gold-earning activities now awarding up to double the previous amount. Starting today for a limited time, players will also receive 1 Gold Bar per rank they progress.