Gears of War: Ultimate Edition PC supports 4K, has dedicated servers - report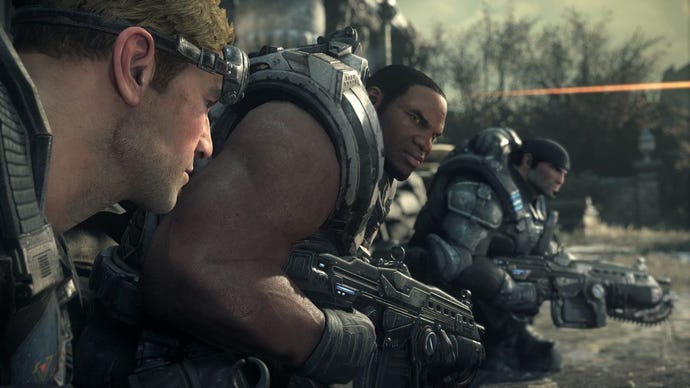 Gears of War: Ultimate Edition popped up on the Windows 10 Store today, apparently.
Microsoft promised Gears of War: Ultimate Edition would come to PC back in June 2015, but as with most of Microsoft's Windows gaming initiatives we've been twiddling our thumbs waiting for a meaningful update ever since.
It looks like the ball may finally have started rolling, though; according to Windows Central, which took screenshots, the Black Tusk remaster popped up on the Windows 10 Store today before being hastily deleted.
The listing was clearly not finalised, as the £774.99 price tag demonstrates, so all the details are subject to change. Nevertheless, here's what Microsoft had to say about it:
Every aspect of the original Gears of War has been beautifully remastered and modernized, including lighting, environments, characters, and cinematic scenes. This is the first at its best!
Play in stunning 4K with an unlocked refresh rate.
Includes five additional, exhilarating campaign missions that follow Delta Squad as they battle their way to Timgad Station not included in the Xbox 360 original.
Go deeper into Gears fiction with five Gears of War comic books, which can be unlocked and read within the game.
Remastered for Dolby 7.1 Surround Sound.
Multiplayer features:
The most visceral online shooter returns with multiplayer matches running on fast and fair dedicated servers with unlocked refresh rates.
Includes all original Xbox 360 DLC multiplayer maps and three multiplayer maps from the original Gears of War PC version for an incredible 19 total multiplayer maps.
Newly added multiplayer modes include Team Death Match, King of the Hill, Blitz and a special 2v2 mode designed by the Gears of War community.
Returning multiplayer modes include Warzone, Assassination, Execution and Annex.
And more:
All new Xbox Live Achievements and 1,250 new Gamerscore.
Handpicked gameplay improvements, alternate controls and a new difficulty level for players new to the franchise.
Support for keyboard or gamepad controls.
The Windows 10 version includes the Deluxe Weapon Skin Pack and 11 bonus multiplayer characters.
The listing also gave minimum system requirements as well as recommended specs for HD and 4K, which made it clear that a DirectX 12 compatible GPU is mandatory. Visit the source link above to peruse them in full.