Gamestop lists 160gb PS3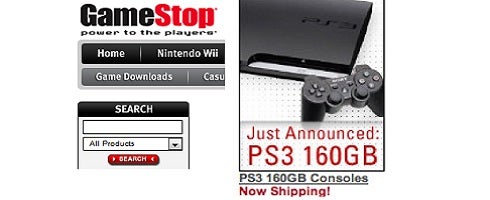 Gamestop has listed a new 160gb PS3, perhaps giving an insight into one of the announcements at Sony's Gamescom press conference later today.
The listing, which has now been removed, described the console as "Just Announced" and "Now Shipping," even though it hasn't actually been announced just yet.
If Sony are to release a new SKU as seems likely, it will no doubt replace the 120gb model given Gamestop were also listing the new console at the same price point.
Also listed was a $404.97 God of War 3 bundle and a $379.97 Accessory Bundle with two controllers and a Bluetooth remote.
There is also talk of a 320GB model according to Joystiq, although nothing has been confirmed in this respect.
Sony's presser kicks off later today and we are live blogging, so bookmark this page and get ready to find out more.