Fortnite Season 5: start date, release time, map changes, skins and more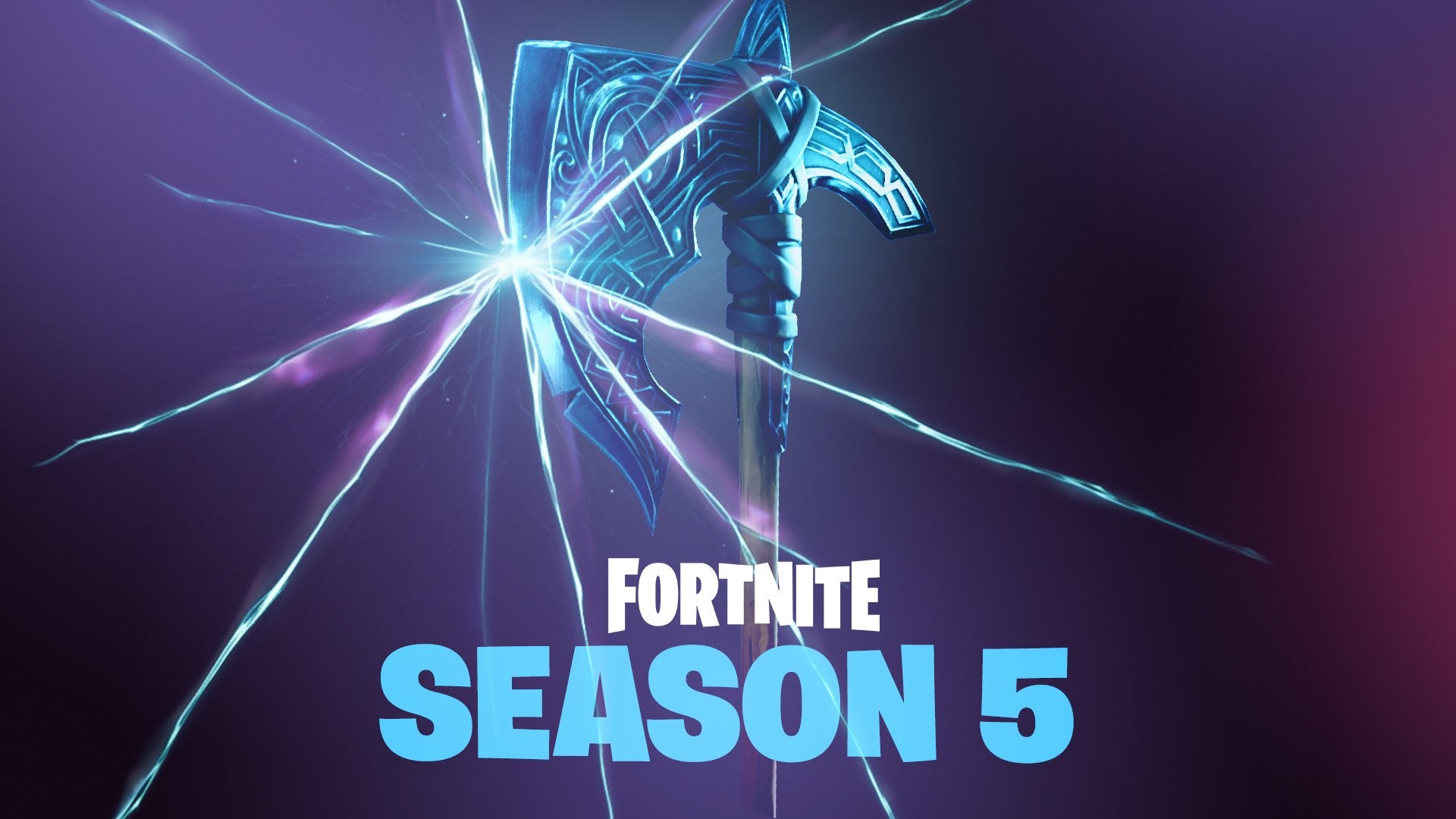 Epic Games has confirmed the start date for Fortnite Season 5, which kicks off this week.

Season 4 has officially finished, and the Patch Notes for Fortnite Season 5 are live! They list some new technical changes to how the game works, as well as a couple of new locations.
Season 5 start date, end date
The countdown has begun. Fortnite Season 5 will start on July 12 at 4am EDT - that's 8am GMT. It will end 10 weeks later, so that's September 20. We'd expect the servers to go down for maintenance from the advertised time and come back online at least two hours later, if not longer.
According to Epic, the download itself is going to be bigger than usual.
"We have many new things coming your way, due to this the patch size will be larger than normal," said Epic. "So make sure you have that auto-update ready! There is also the potential you may also experience slower download speeds."
Although there has been delays to a number of events in Fortnite - most recently the Playground LTM - we shouldn't expect the start of Season 5 to be delayed beyond July 12.
Fortnite map changes
Season 4 of Fortnite changed the map significantly by nuking Dusty Depot and turning it into Dusty Divot. As well as that, the Fortnite map has been tweaked over the past nine weeks or so, but the biggest change was the end result of the Rocket Launch Event last weekend.
A rocket was launched skyward before returning to the map, heading for Tilted Towers and then exploding in the sky above Moisty Mire. As a result, there is now a massive crack in the sky, which we're fairly certain will be the focal point for major changes in Season 5. Moisty Mire isn't the most popular spot on the map, so it wouldn't surprise us to see changes there as well as a few other locations on the map.
A number of props have disappeared from the map, including the Durr Burger sign, which has since appeared in California. And there's a lot of Loot Llamas appearing in major cities around the world, including Paris, London and Cologne.
More importantly, new props have arrived on the current Fortnite map giving clues to future changes.
This anchor from an old ship could point towards some sort of pirate or viking content, while the stagecoach is a definite Wild West vibe.
The latest update is a dinosaur skeleton, that's appeared in Moisty Mire.
Skeleton appearing from portal in Moisty Mire. pic.twitter.com/ozsreYfYyX

— Fortnite Battle Royale - FortniteInsider.com (@Fortnite_BR) July 10, 2018
Why would we be talking about different time periods in history? Ah, well, that's where the next teases from Epic begin to make more sense...
Worlds Collide and the Kitsune Mask
Epic's first official tease for Season 5 shows what appears to be a mask of a Kitsune, a mythical Japanese fox. According to folklore, the Kitsune has the power to manipulate time and space.
Not only that, but the new in-game messaging for Fortnite Season 5 says simply "Worlds Collide". This is another suggestion that multiple worlds or timelines will merge on the Fortnite map.
The second tease from Epic depicts a silver axe, not too dissimilar to a viking weapon, right? And again, there's the mysterious lightning that has been ripping across the map over the past week or so. The potential for skins based on ancient mythical and historical periods is growing...
Season 4 also added a few smaller locations including the underground bunker and villains lair, so you should expect smaller tweaks across the map, not just momentous happenings at named locations.
All clues for Fortnite Season 5's theme so far are pointing towards time travel and history.
Season 5 Battle Pass cost
Epic Games seems to have settled on a formula for the Battle Pass for each season of Fortnite. It costs 950 V-Bucks, which is $9.99 and £7.99 in real money. For that you will get access to all the weekly challenges and 100 tiers of unlocks that includes skins, pick axes, emotes, free v-bucks, spray paint, and more.
As with Season 4, we would expect the Battle Pass for Season 5 will give you instant access to at least two skins, and if you already own Season 4 expect a bunch of free Battle Stars to kick start your tier climbing.