Final Fantasy XIII goes west today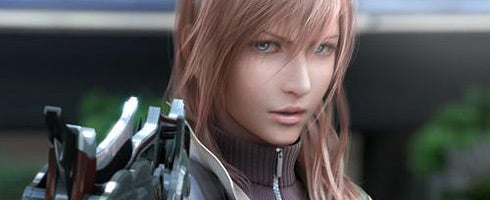 Nearly four years after its reveal at the Sony press conference back at E3 in 2006, Final Fantasy XIII releases today in the west for PlayStation 3 and Xbox 360 after a release late last year in Japan.
The game's gone through the ringers since its reveal, from a lack of information on it to doctored shots, but it still wasn't a touch on what was announced in July 2008.
Square Enix president Yoichi Wada announced at Microsoft's press conference at E3 that year that FFXIII would be heading to Xbox 360, having previously been a PS3 exclusive.
Reviews for it have mostly been good, with a couple of bad ones like a five from Edge. IGN's just gone live with an 8.9.
Final Fantasy XIII is the main course in a three-part series for the franchise, known as Fabula Nova Crystalis. Two more titles, Final Fantasy Versus XIII for PlayStation 3 and Final Fantasy Agito XIII for PSP, are on the way.
Press release is below.
FINAL FANTASY XIII OUT TOMORROW

London (8th March 2010) – Square Enix Ltd., the publisher of Square Enix® interactive entertainment products in Europe and other PAL territories, today announces FINAL FANTASY® XIII, the latest project in the multi-platinum FINAL FANTASY series, will be available from tomorrow, 9th March 2010, for both the PlayStation®3 computer entertainment system and the Xbox 360® video game and entertainment system from Microsoft.

FINAL FANTASY XIII marks the dawning of a new era for the celebrated series, bringing the series to multiple hi-definition consoles simultaneously for the first time in its history. Expanding upon the rich tradition of the series, producer Yoshinori Kitase (FINAL FANTASY VII, X, X-2), director Motomu Toriyama (FINAL FANTASY VII, X, X-2), character designer Tetsuya Nomura (FINAL FANTASY V, VI, VII, VIII, X) and art director Isamu Kamikokuryo (FINAL FANASY X, XII) combine their creative vision to deliver the latest masterpiece in the FINAL FANTASY universe. Additionally, Masashi Hamauzu (FINAL FANTASY X, DIRGE of CERBERUS -FINAL FANTASY VII-) presents a sweeping soundtrack while movie director Takeshi Nozue (FINAL FANTASY VII ADVENT CHILDREN) and his team of artists adorn the game with seamless cinematic sequences of unparalleled calibre.

Introducing new worlds, memorable characters and extraordinary stories with each new instalment, the FINAL FANTASY series has continued to reinvent itself over the last two decades and has shipped over 92 million copies worldwide. The series is defined by a constant evolution, offering nothing less than the finest creative vision, graphical quality and gameplay system of its generation with every instalment, and FINAL FANTASY XIII will be no exception to its legacy.
More

For more information about FINAL FANTASY XIII, please visit the Official Website at HYPERLINK "http://www.finalfantasy13game.com" www.finalfantasy13game.com