Not even Clive's heaving pecs could help Final Fantasy 16 sales reach Square Enix's lofty goals
While the game might have met some of its expectations, it didn't quite hit what Square Enix wanted.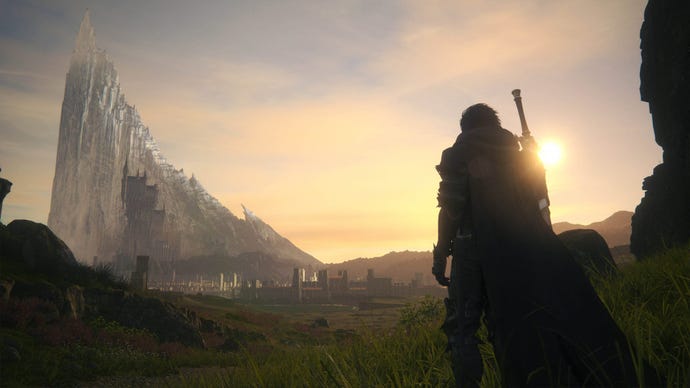 Despite previous comments, it now seems that Final Fantasy 16 didn't actually hit Square Enix's high expectations.
Square Enix shared its latest earnings report last week, Bloomberg reported (paywalled, thanks Eurogamer), where it shared that net sales had increased, but operating profit had dropped by 79 percent. President Takashi Kiryu spoke with analysts during a post-earnings call, where he said that the high end of the company's expectations for the game weren't met, with the supposed slow adoption of the PS5 being a factor as to why that is the case.
Watch on YouTube
Last month, Square Enix said that the game's sales were "extremely strong," at the time noting that because of the smaller install base of the PS5 it makes sense it wasn't as successful a launch as Final Fantasy 7 Remake on PS4. For comparison, Final Fantasy 16 sold three million copies in its first week, whereas Final Fantasy 7 Remake sold 3.5 million copies in three days. Both launched exclusively on PlayStation consoles at the time of their respective releases.
Square Enix apparently plans to take action to increase the game's sales since hardware stock isn't as limited now, though the PS5 has been much more easily available for months now, and has even found success in that fact. Final Fantasy 16 will be coming to PC at some point in the future, and last month Xbox and Square Enix announced that they would be working more closely together in the future to bring the latter's games to Xbox consoles - such as Final Fantasy 14, which is hitting Xbox Series X/S next spring.
While we don't know when Final Fantasy 16 might be coming to other platforms, we do at least know that Final Fantasy 14's next expansion, Dawntrail, is due out summer 2024. This next expansion will start a new overarching story, as the plot established in A Realm Reborn wrapped up with 2021's Endwalker expansion (though there is a bit more to go, as patch 6.5 part one is due out early October).