Fan-made Star Wars Battlefront 3 game heading to Steam as a free download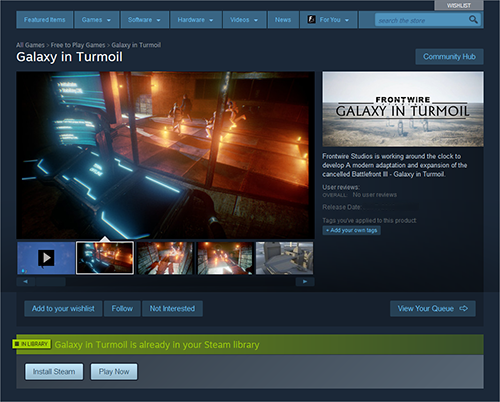 Galaxy in Turmoil, the fan-made project based on the cancelled Star Wars Battlefront 3, is heading to Steam.
Fan-made Star Wars Battlefront 3 game is heading to Steam as a free download
Yes, you read that right. The project was given the thumbs up from Valve and will be distributed through Steam.
Since this is a free download, the Russia-based developer, Frontwire Studios, said this should keep Disney's lawyers from banging on the door. It's still possible a take down order could issued, but studio president Tony Romanelli feels with Valve allowing the game on its service, the company "clearly lacks that same concern."
"After ongoing discussion between Valve Representatives and myself, Valve/Steam has agreed to ship Galaxy in Turmoil to it's millions of users for free. While this is undoubtedly a big step and accomplishment for Frontwire Studios itself, it's an even bigger step for you, the community," said Romanelli.
"By Steam agreeing to ship Galaxy in Turmoil we are not only adding more validation and awareness to the project by opening up the game to a whole new audience, we're also cementing Frontwire Studios' reputation as an up and coming developer with the opportunity to now publish our games on Steam in the future.
Formerly known as "Project Rebuild (FRD) BF3″, the studio has plans to release free DLC for the Unreal Engine 4 title in the future.
You can get a look at the game's Steam page above, but as PCgamesN notes, it doesn't seem to be live just yet because the game is not ready at the moment.
Star Wars Battlefront 3 was in development at Free Radical, and was 99% finished before Lucasarts cancelled the title.