EA is 'funnelling' FIFA players to FUT's loot boxes, according to leaked document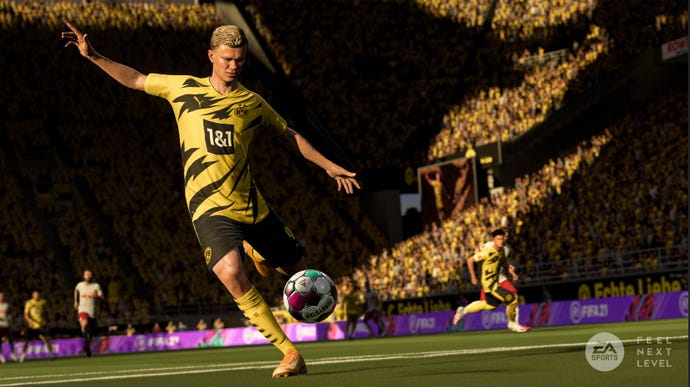 A leaked report suggests that EA is aiming to push FIFA players to the game's Ultimate Team mode, where the company can make more money through loot boxes.
more
Documents obtained by CBC News suggest that EA is intentionally driving players into the more loot box-orientated FUT mode so the company has a larger chance to glean more money from them in the premium title.
One page of the "Run Up to FIFA 21" internal presentation from 2020 (distributed ahead of FIFA 21's launch) that was acquired by the news outlet states that messaging for the yet-to-release game "will drive excitement and funnel players toward FUT from other modes," and outlines that the return of professional soccer post-Covid-19 "is only going to help us and plans are ready to flex."
Other lines in the documentation really speak to how EA views FUT, and how the company wants to position the mode above all others in the game. "FUT is the cornerstone and we are doing everything we can to drive players there," says one part of the document. "All roads lead to FUT," it says elsewhere.
CBC also noted that EA's internal communications referred to in-game currency in FIFA as 'grind currency', though a clarification from EA suggests that phrasing "is not a term we typically use."
EA has responded to the leaks, noting that the documents are being seen 'without context'. As per CBC:
An EA spokesperson declined an interview request and wouldn't comment on the document, which, he noted, was "marked privileged and confidential," other than to say it is being "viewed without context" and that interpretations of what it says "are misinformed." When asked to clarify, he did not respond.

"All EA games can be played without spending on in-game items, and the majority of players do not spend," Charlie Fortescue said in a statement.
The publisher has also released a statement directly to its website: "We do not 'push' people to spend in our games. Where we provide that choice, we are very careful not to promote spending over earning in the game, and the majority of FIFA players never spend money on in-game items."
EA also states "we [...] firmly disagree that FIFA or any of our games involve gambling."
This isn't the first time that EA has been forced to confront the gambling connection in FIFA. In December 2020, the company seemingly made moves to block FUT in countries with more stringent anti-gambling laws. Back in January 2021, ex-EA exec Peter Moore said FIFA Ultimate Team loot boxes are a "long way" from gambling, too.
Anti-loot box sentiment is growing, and it stands to reason that EA has a long battle on its hands if it wants to defend the practice in the face of growing international scrutiny.