The Division 2 Best Perks: What should you unlock early?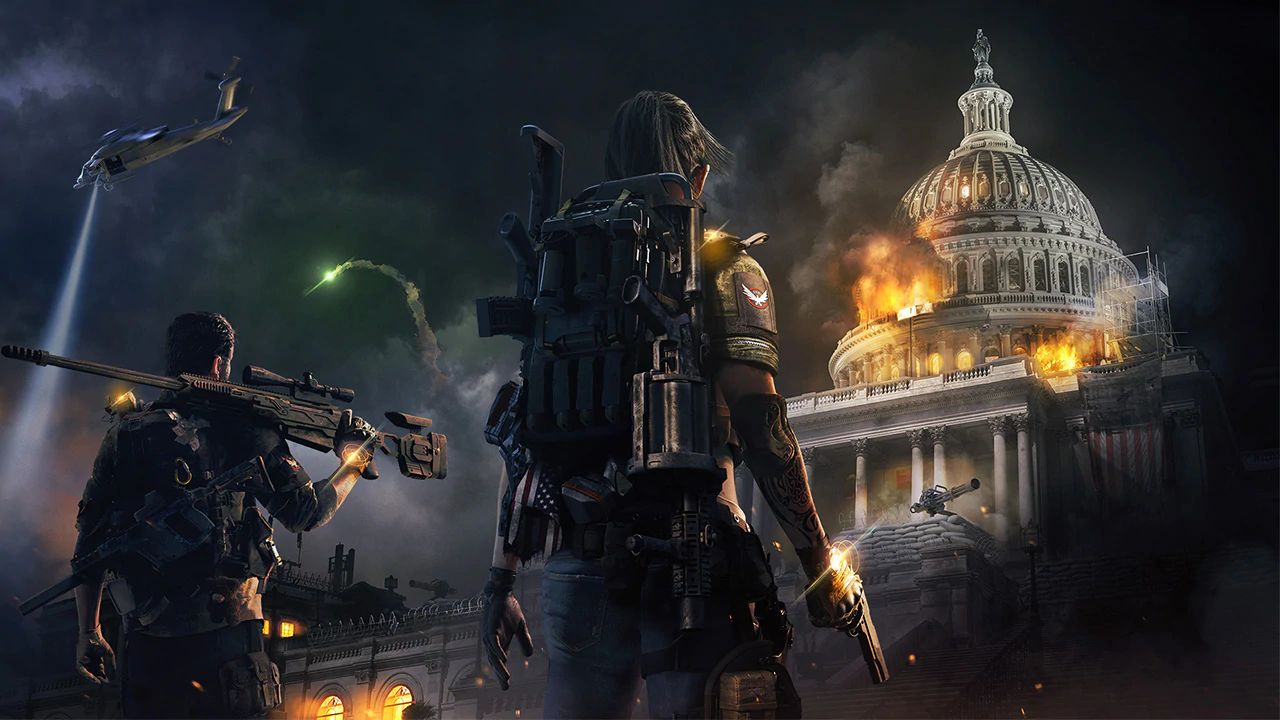 You've only got a couple of days, so if you're going to take back D.C from the roaming gangs of armed thugs during this free weekend, then you'll need to be equipped for the job.
Alongside your character abilities, you can unlock a suite of perks that give your character items and powerful passive buffs. Here are some of the best perks to unlock early in The Division 2, so you can spend your SHD Tech wisely.
Once you discover the Safehouse in each area, the SHD Caches will be marked on your map, so if you need more it's not too hard to find.
You'll eventually be able to unlock everything that you like, but there are a few perks you should get sooner rather than later to maximise their use.
There are also a couple of perks that you can only unlock once you've reached the max level of 30 - if you're having trouble getting there check out our fast levelling guide.
The Division 2 Best Perks
Right off the bat, you'll be forced to unlock the Weapon Slot perk, which to be fair would be the right choice anyway. After that, you're free to spend your hard-earned SHD Tech as you wish.
So that you can get the most out of them, it's wise to focus on buying the XP and material focused perks first, before moving onto inventory upgrades and items.
Headshot Accolade doubles the amount of XP that you get for killing an enemy with a headshot, and over the course of the game will net you a huge amount of experience, even if you're not really trying for headshots.
Grab this early and watch the levels fly by!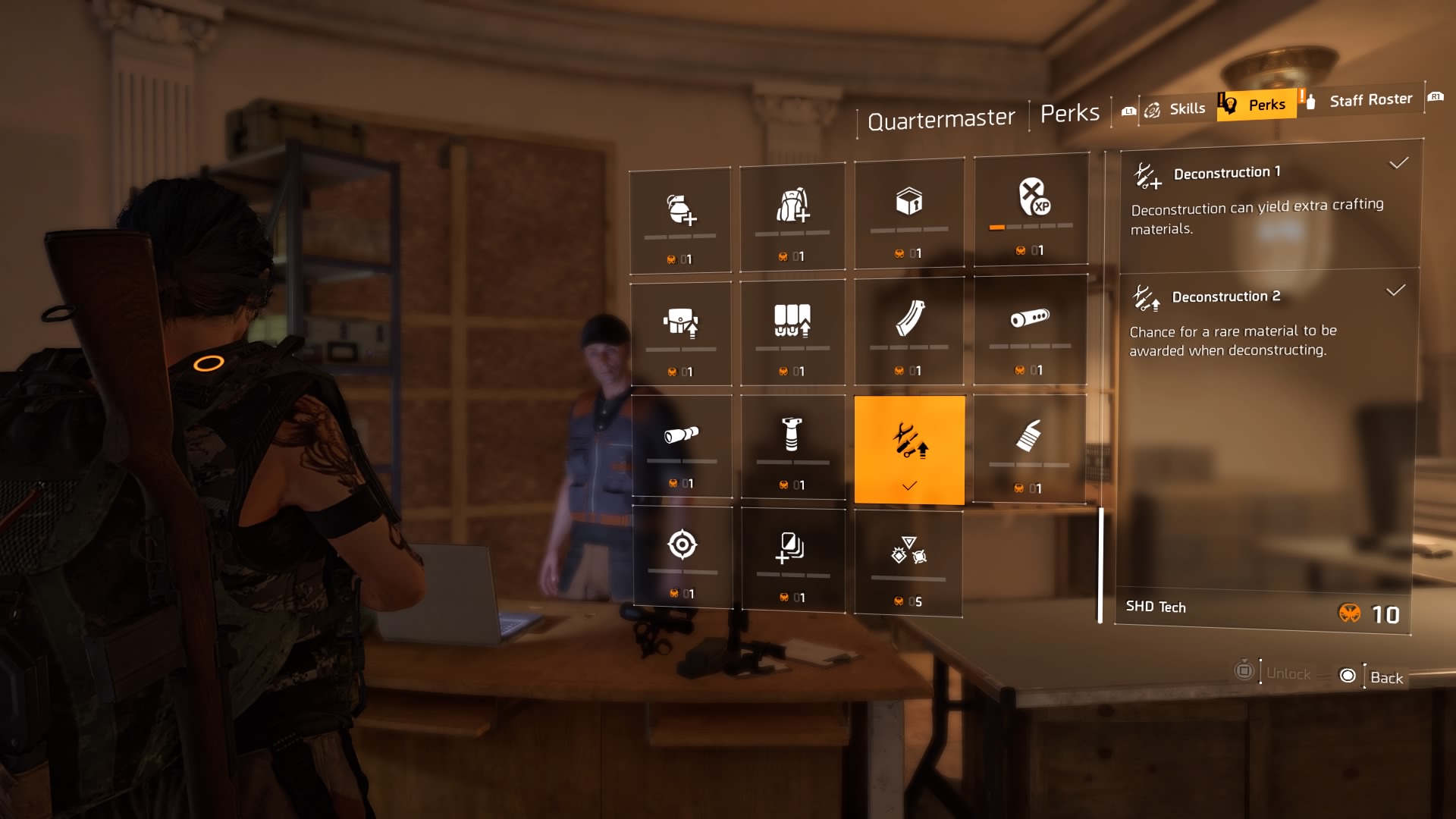 You get an absolute ton of loot in The Division 2, and you're going to be scrapping most of it.
Make sure to pick up the Deconstruction perk so that you're getting every precious morsel out of equipment you find - you'll thank yourself when you just barely have enough materials to craft that fiftieth pair of khaki cargo pants.
Armor Kits and Restock Armor Kits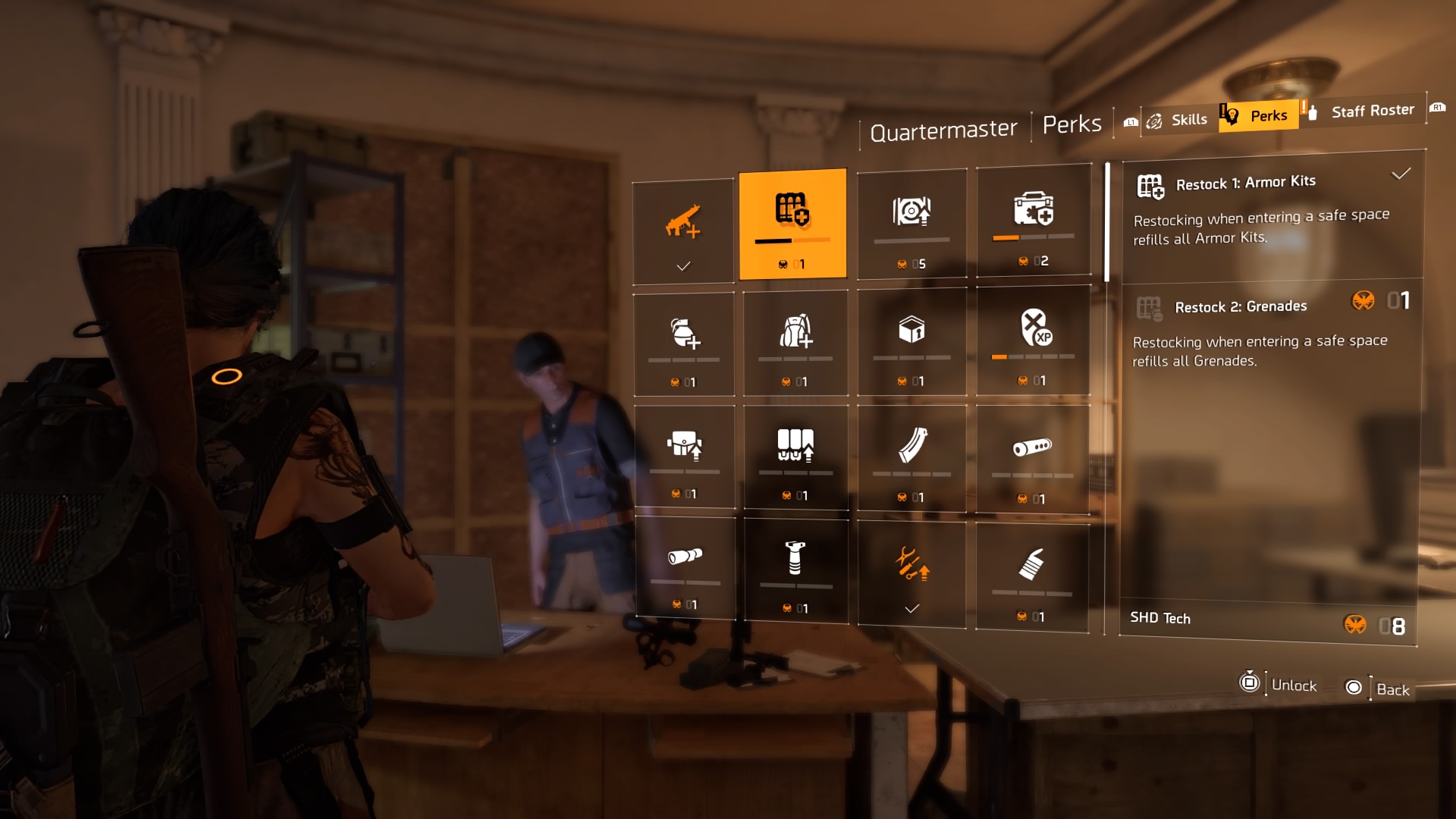 If you're not careful, even basic enemies in The Division 2 can chew through your armor bar like a naughty puppy through a charger cable. It's a good idea then to increase your armor kit capacity as soon as possible. However, combine this with the Restock 1 perk and you won't really have to worry about running out again since your now large stack of armor kits will continually be replenished when you enter a safe zone.
This stops you from relying on RNG enemy drops in the heat of battle and focus on fighting.
For more on The Division 2, check out our guides to finding Faction keys, and the best skills to unlock at the start of your mission.