Destiny 2 Iron Banner: November event closes out Season 1 next week on PC and consoles, last chance to grab that emblem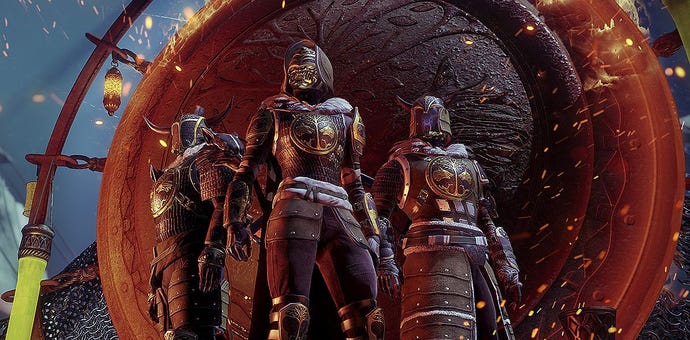 Iron Banner returns in Destiny 2. Here's what you need to know.
Destiny 2 players can revisit the glory of the Iron Lords as fan-favourite PvP event Iron Banner returns in Bungie's sequel.
As part of our Destiny 2 guide, we'll keep this page updated with the latest details every time Iron Banner opens its doors.
November 2017 Iron Banner details
Bungie has confirmed Iron Banner returns to Destiny 2 in November. It will be the final Iron Banner of Destiny 2 Season 1, but the first PC players can participate in.
The latest Iron Banner will be played in Clash, kicks off in Destiny 2 at 1:00am PST November 21, and ends at the same time on November 28. Here's that in a few different timezones, although this link will show you local details:
PT: 1am
ET: 4am
UK: 9am
CET: 10am
Sydney: 8pm
Because this is the last Iron Banner of Season 1, it's also your last chance to complete the Seasonal Milestone and earn the Shades of Radagast emblem. See the Seasonal Milestone section below for more information.
Iron Banner basics and how to get your loot
Each Iron Banner event runs for one week. Bungie has not announced a schedule; in D1, it was a monthly event, but Destiny 2 has a more robust event calendar so we may see it less frequently this time.
As of Season 1, Destiny 2's Iron Banner plays like standard Quickplay Crucible, except that it is confined to one mode. Unlike D1, there are no advantages to having higher Power in Iron Banner as scaling is in effect, just like in regular Crucible.
Iron Banner does not award Luminous engrams, so don't expect to reap huge Power benefits if you're already in Destiny 2's levelling endgame.
In Destiny 2's version of Iron Banner, players will no longer complete bounties and earn ranks, but will instead earn Legendary engrams by turning in Iron Banner tokens to Lord Saladin - much like any other vendor or faction in Destiny 2.
You must speak to Lord Saladin at the Tower before you can access Iron Banner from the Director. That means you'll need to have completed the Red War story campaign to compete in Iron Banner. You'll find Saladin in the Tower after Iron Banner kicks off at weekly reset when an event is scheduled; return to orbit and come back if you don't see him immediately.
Iron Banner tokens are earned for participating in the associated activity. In this case that means completing Iron Banner matches, and you get more for a win. You can complete Iron Banner Challenges to earn extra tokens, and they're generally pretty manageable. Lord Saladin offered a milestone for completing three challenges, which is well worth trying for as it significantly boosts your earnings. Turning in this quest should net you your first reward package and get you some of the way to your next. You should also be sure to equip any Ghost shells with extra token perks to maximise your winnings.
The Iron Banner token loot system has not been popular and will be overhauled in Season 2, Bungie has confirmed.
Iron Banner Season Milestones
As well as general loot rewards, you can pick up a pack of bonus goodies by meeting a Season Milestone in Iron Banner. In Season 1, Iron Banner participants could net the Shades of Radagast emblem shown below.
The Season 1 Milestone is to collect ten reward packages - which means amassing 200 tokens. At five tokens per win, you'll definitely be at it a while - so be sure to take advantage of the daily Challenges, and the bonus reward for completing all three on any day.
Destiny 2 Seasons run for three months, so you don't have to meet the full Season Milestone requirements over the course of one week-long Iron Banner.
Unfortunately Destiny 2 Season 1 only included two Iron Banner events (there was no iron Banner during launch month) and PC players only get to participate in the November event - so they'll have to put in the hard yards this time to earn enough tokens.
Iron Banner weapons and armour
Here's the armour on offer in Destiny 2's Iron Banner, which seems to have a samurai theme. This gear will be available in each Season of Destiny 2, but starting with Season 2, each season will introduce unique, limited-time ornaments with which to spruce up your gear.
Next week at Bungie... pic.twitter.com/U7i6KReQWA

— Bungie (@Bungie) October 5, 2017
The Hunter and Warlock armour set are both Heavy (favours Resistance) while the Titan set is restorative (favours Recovery).
The event also delivers a stack of Iron Banner weapons. Look for The Guiding Sight scout rifle, The Time-worn Spire pulse rifle, The Steady Hand hand cannon, The Forward Path auto rifle, The Hero's Burden submachine gun, The Fool's Remedy sidearm, The Wizened Rebuke fusion rifle and The Day's Fury grenade launcher.
There doesn't seem to be a sword, sniper rifle or rocket launcher on offer. Check out some images below:
The weapons and armour are awarded randomly in Iron Banner engrams, along with other goodies such as emblems and shaders.