Darksiders - Strife, Fury and Death already designed, says Joe Mad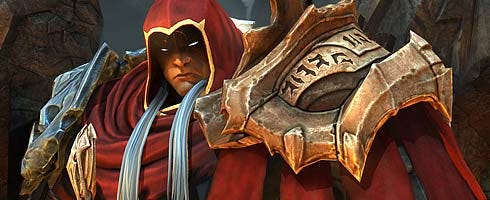 Update - You can see the other Horsemen in this artwork.
While Vigil boss Joe Madureira won't be drawn as to whether more Darksiders games are on the way, he will confirm one thing: all the IP's Four Horsemen of the Apocalypse have already been designed.
We know because we asked him on the phone. While he didn't add any detail as to what we can expect from War's BFFs, he did answer a surprised, "Yes, as a matter of fact," when asked if he'd already designed the other Horsemen.
The game's Horseman are War, Strife, Fury and Death, altered from the more traditional War, Pestilence, Famine and Death.
Darksiders itself focuses solely on War and his quest to solve the riddle of a falsely-triggered Apocalypse.
As for more games, you'll just have to wait for news.
"I cannot confirm or deny this," he said on the subject of a second game. "But, obviously, we would love the chance to work on a sequel."
Further work on the IP seems inevitable. Madureira also told us that THQ's already exploring film and other cross-media opportunities, and the publisher's been publicly upbeat about the game's post-Christmas release.
Darksiders has had an excellent reception so far, taking MC averages of 85 for PS3 and 84 for 360.