Cyberpunk 2077 2.0 adds a touch of Doom with a new secret arcade game
A neat surprise addition ahead of Phantom Liberty's release.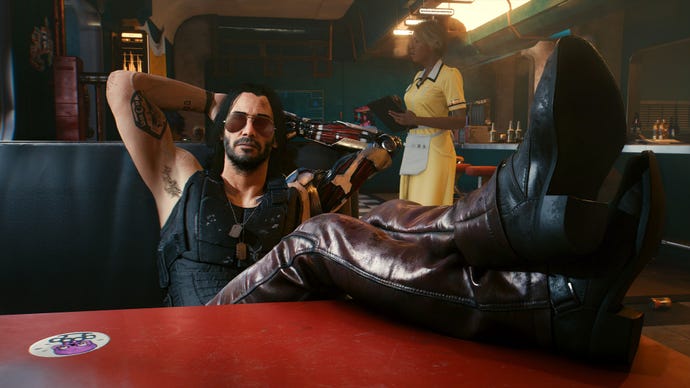 Cyberpunk 2077's recent 2.0 update has made some big changes to the game, but it's also added some extras here and there, like a brand new arcade game.
The last update before 2.0 arrived, patch 1.6, added in an arcade game you could play in Cyberpunk 2077 called Roach Race, a simple pixel art game set within The Witcher where you play as Geralt's faithful companion Roach. It was a nice addition to the game, and update 2.0 added in a new arcade game called Trauma Drama too, another side scrolling pixel art game with more of a run and gun slant. But it turns out there's another game that's been added in with 2.0 that wasn't mentioned in the game's patch notes.
Oh S**t They Added a Secret Arcade Game! Arasaka Tower 3D
byu/OkGuide2802 incyberpunkgame
As spotted on the game's subreddit, the game in question is called Arasaka Tower 3D, a Doom-like game in which you play as none other than Johnny Silverhand, your constant companion in the main game. You'll probably find it to be a bit familiar, as you're playing as Silverhand during his attack on Arasaka Tower, something you experience first hand during an early flashback.
It's a really neat little addition to the game, and honestly makes a lot of sense for Cyberpunk's world - of course someone made a game about an extremely notable terrorist attack, what a perfectly normal thing to do. The game also apparently references a set of characters that have been a bit of a mystery for Cyberpunk players, so it seems like CD Projekt is building towards something after all.
If you're looking to play this arcade game yourself, you'll find it in a building near the Protein Farms location. You can check out the video below to show you where it is, as well as what it looks like in action. And if you're wondering how the upcoming Phantom Liberty expansion is faring, you can check out Alex's assessment of it here.