Call of Duty Warzone and Black Ops Cold War Season 4 roadmap revealed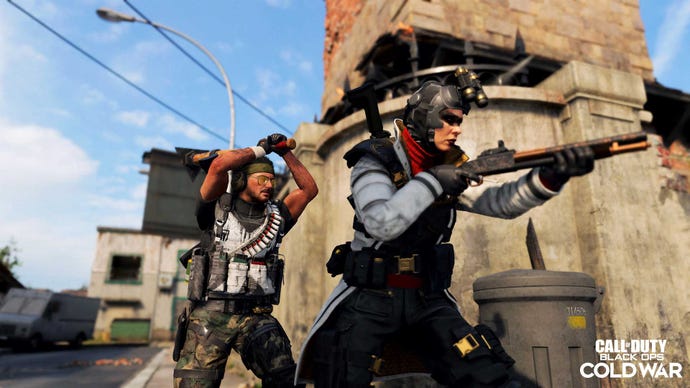 Season 4 of Call of Duty: Warzone and Black Ops Cold War kicks off next week, and ahead of its initiation, Activision has shared more information about what we can expect from the update.
Treyarch and Raven – developers working on Black Ops Cold War and Warzone, respectively – have shared a roadmap that highlights what new multiplayer content, Zombies updates, and Warzone changes are due to arrive in the various Call of Duty projects with Season 4.
As ever with these big updates, we're going to see Warzone get a fairly sizeable update in the new patch, with a lot of map landmarks getting changed and some new items getting introduced to the game, too.
Ground Fall Event
Kicking off Season Four, the "Ground Fall" will litter the Verdansk map with space junk. The limited-time event will have you find and secure SAT-Links to score exclusive rewards for your global profile across Black Ops Cold War and Warzone. It's interesting to see something like this span both facets of the game.
"For this event, you'll tackle objectives pertaining to the new modes, maps, and weaponry in Black Ops Cold War and to the new Points of Interest in Warzone," says a press release. "Completing these objectives will reward you with items such as Emblems, Calling Cards, and a Satellite Weapon Charm, as well as some XP."
If you complete every challenge, and you'll receive an Epic Secondary Weapon Blueprint that is "truly out of this world". Alien blaster, anyone?
New Operators
Both NATO and the Warsaw Pact are adding reinforcements to their front lines "before mid-season". We're getting:
• Jackal, the metal-masked South African native. (Launch Tier 0 reward with a Tier 100 Ultra-Rarity Operator Skin).
• Salah, a member of the CIA-led squadron that infiltrated the Algerian satellite crash site. (Arriving in-season).
• Weaver; CIA Clandestine Service Officer Grigori Weaver straddles both sides of the Cold War divide. (Arriving in-season).
Following that, "a familiar friend" will join the fray, though no details on who that will be have been shared yet.
New Weapons
There will be two new Battle Pass weapons and three unlockable armaments available to you during the season, as per an update on the Call of Duty site:
• MG 82: LMG (Coming at launch, Tier 15 reward)
Full-auto light machine gun. Highest fire rate in class with improved aiming speed. Moderate recoil and damage with increased ammo capacity.
• C58: Assault Rifle (Coming at launch, Tier 31 reward)
Full-auto assault rifle. High damage at close range with a slower fire rate. Fast bullet velocity and reliable recoil control with less ammo capacity.
• Nail Gun: Special/SMG (Coming to both BOCW/WZ at launch)
This slow-firing, highly mobile power tool uses compressed air to launch fast-moving projectiles that deal high damage at close range.
• OTs 9: SMG (Arriving in-season)
Boasting great stopping power and a phenomenal rate of fire, the OTs 9 is hindered only by its low magazine capacity of 20 rounds.
• Mace: Melee (Arriving in-Season)
Get medieval on your enemies with this in-season melee weapon, bringing the available number of hand-to-hand combat tools in Black Ops Cold War to eight, including the Ballistic Knife.
The latter three weapons can be obtained in Season 4 in one of two ways: complete an in-game challenge to obtain the free base weapon, or pick up a bundle with a unique Blueprint version when it appears in the Store.
Warzone
"Several Satellites have crash-landed in Verdansk, leaving you and your squad to investigate their rubble," says a press release.
Although they won't appear on your Tac Map, the Satellite Crash Sites will be plainly visible in Verdansk, as the debris and impact on the landscape is significant. "Besides offering new opportunities for cover, the satellites themselves can also be secured," apparently.
"Interact with the Sat-Links found in the area to work toward receiving permanent rewards in the Ground Fall event at the beginning of the season. Also, secure helpful items to use during the match, such as powerful Killstreaks, vehicles, and Field Upgrades."
The Dirt Bike, the first brand-new vehicle to drop into the DZ, arrives at launch. "Ramp up your off-road antics with this extremely maneuverable scrambler, scattered across Verdansk and ready to use at the start of a match."
In addition to becoming the new fastest vehicle in Warzone, the Dirt Bike will have some unique handling properties, such as wheel traction, sliding, drifting, and vehicle leaning, allowing you to take epic hairpin turns, dodge oncoming fire, or pull off sick stunts by controlling your orientation in the air.
Red Doors are also coming. But you'll have to figure out what they are on your own because the press release isn't particularly helpful.
Our intel cannot explain the origin of these mysterious red doors around Verdansk, but one thing is certain: They allow you to [[REDACTED]] around the [[REDACTED]]. What's behind them? Explore and enter them to [[REDACTED]] across the [[REDACTED]].

Red Doors won't [[REDACTED]] unless you ping them, and after you step through, there's no telling [[REDACTED]] exiting out the other side… and stepping into a [[REDACTED]].
Black Ops Cold War
Four new maps are coming to the PvP portion of Black Ops Cold War: Collateral (12v12) and Collateral Strike (6v6), Amsterdam (2v2 and 3v3) and Hijacked, a beloved 6v6 map first appearing in Black Ops II, are all coming at launch. Then later, Rush (6v6) arrives in-season.
A new multiplayer mode and two returning favorites are coming, too: Multi-Team: Sat-Link and One in the Chamber arrive at launch, whilst Capture the Flag comes in-season.
A semiautomatic handgun chambered in a ridiculously high-caliber round, the Hand Cannon arrives as a new scorestreak, too.
"Mauer der Toten" – Treyarch's new Zombies experience, arrives mid-season. Says the press release:
Fans of "Die Maschine," "Firebase Z," and other classic round-based Zombies experiences will be welcomed home in "Mauer der Toten," the next chapter in the Black Ops Cold War Zombies coming mid-season.
Phew. That's all the headline info, but if you want to read up about what else is coming over the next Season of Call of Duty, head to the dedicated site.
Season 4 starts later this week on Thursday, June 17.