Call of Duty 2014 coming from Sledgehammer, franchise now three-studio affair - ActiBlizz Q1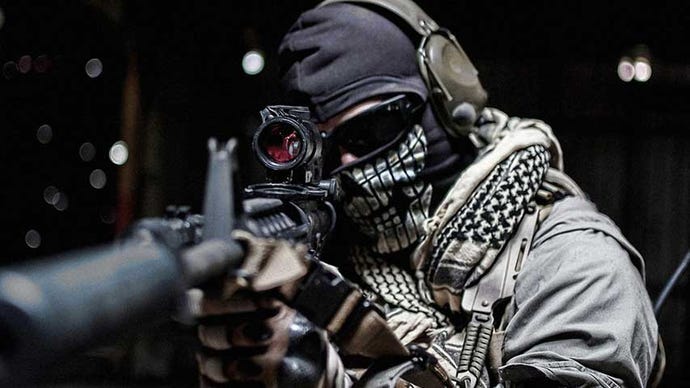 Call of Duty is now a three-studio franchise with a three-year rotation schedule, with Modern Warfare 3 co-developer Sledgehammer Games entering the ranks.
Call of Duty
The news comes from the twin publisher's fourth quarter and calendar 2013 financial report. Infinity Ward, Treyarch and Sledgehammer Games will now each have three years to produce a Call of Duty game, rotating through in a staggered fashion to continue the yearly release cycle.
Sledgehammer is behind the 2014 Call of Duty, although no further details were revealed.
In a post-release conference call to investors, Activision Blizzard CEO Bobby Kotick said he expects Sledgehammer's 2014 Call of Duty game to be "one of if not the best" Call of Duty games ever.
As for the franchise's performance, Call of Duty was the top franchise in North America for the fifth consecutive year, the publisher added in a post-release conference call, and Black Ops 2 alone was played for over 4 billion hours in 2013.
Again across Europe and North America combined, Call of Duty: Ghosts was the number one best-selling game in both unit and dollar sales in the fourth quarter; it was also the best-selling game on both PlayStation 4 and Xbox One. Black Ops 2, its immediate precursor, managed to hold onto the ninth slot for both dollar and unit sales.
Upcoming releases
Kotick said that in 2014 and beyond Activision Blizzard will deliver the "strongest and most diverse pipeline of games" in its history.
During the conference call following its financial release, the publisher revealed it is very pleased with Blizzard's Hearthstone: Heroes of WarCraft, and Kotick highlighted its upcoming ports - it's coming to Android and iPhone, and later to iPad, which is a first for Blizzard. Kotick described the card battler as set to become Blizzard's next major franchise.
Kotick is also very excited about Destiny, which he expects to become Activision Blizzard's "third billion dollar franchise" and "the best-selling game in video game history".
The 2014 Skylanders will be developed by original creator Toys for Bob, Activision Blizzard said, and there will be more toys released than in any previous year. "For competitive reasons" the new Skylanders will not be revealed until a later date - this is likely a reference to Disney Infinity.
No further mention was made of the the 2014 Call of Duty, but much was made of ongoing development of Call of Duty Online, the free-to-play title currently exclusive to mainland China. Hearthstone's Chinese release was also touted; the publisher has secured the necessary permissions to release in China.
Blizzard is looking forward to Diablo 3 expansion Reaper of Souls, World of Warcraft expansion Warlords of Draenor, the mobile ports of Hearthstone, and is already "hard at work" on the third and final chapter of StarCraft 2 in addition to MOBA Heroes of the Storm.
With Hearthstone, Heroes of the Storm and Call of Duty Online, Activision Blizzard is fronting a triple threat of free-to-play titles, which it seems very pleased about. During the conference call, CFO Dennis Durkin highlighted the strong performance of micro-transactions in various Activision games.
Highlights
Combining North American and European sales, Activision Publishing was the top console and handheld publisher for calendar 2013, the company claimed. It held both the second and third best-selling franchises Call of Duty and Skylanders respectively. Presumably, Take-Two's Grand Theft Auto was the grand winner. The company published four of the top ten titles overall.
Meanwhile, across both markets Skylanders Giants was the fourth best-selling handheld and console game in dollar sales, while Skylanders Swap Force was the sixth best-selling handheld and console game in dollar sales. The Skylanders franchise has generated more than $2 billion in sales life to date. As of December 31 2013, about 175 million Skylanders toys have been sold.
To the Blizzard side now: StarCraft 2: Heart of the Swarm was the top-selling PC game in the US in 2013. World of Warcraft holds approximately 7.8 million subscribers, meaning it retains its title as the number one subscription-based MMORPG and has risen from the 7.6 million figure reported last quarter.
Diablo 3 has sold 15 million copies since launch.
Financial details
Activision Blizzard posted better than expected results for the quarter and full year ending December 2013 despite a year-on-year dip.
The publisher reported quarterly revenues of $1.58 billion, down from the $1.76 billion of the same quarter one year ago. This resulted in a net income of $174 million, down from $354 million year-on-year.
Yearly revenue was $4.5 billion, also down, from 2012's $4.8 billion. Net income was $1 billion, down from $1.1 billion in 2012.
That Activision Blizzard performed beyond expectations will likely satisfy shareholders, but Kotick felt moved to explain away the dip anyway, pointing out the significant changes to the company's management over the past 12 years, as it sought and obtained independence from former parent company Vivendi.
"2013 was a transformational year for Activision Blizzard and for our industry. Our transaction with Vivendi returned us to independence and eliminated the challenges and constraints of being a
controlled company," he said.
"The continued success of our games delivered better-than-expected financial results, including stronger net revenues and earnings per share, and over $1.26 billion in operating cash flow."
The company managed to return profits despite a shift in consumer spending from software to hardware, Durkin added.