Budget Wii label launched in Japan by Nintendo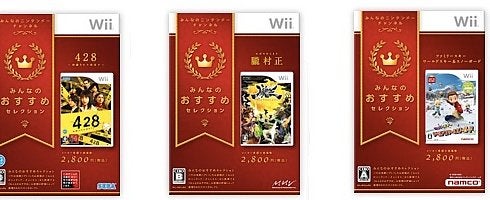 Nintendo has launched a budget line for Wii titles in Japan called the Minna no Osusume Collection.
Translated into English as "The Everyone's Recommendation Collection", it consists of titles given high scores by users on the Minna no Nintendo Channel and cost ¥2,800 ($31) (via Koatku).
The titles will launch February 25 in Japan and are listed below with the ratings given to each:
428 ~Fuusa Sareta Shibuya de~ (Platinum)
Muramasa: The Demon Blade (Gold)
ARCRISE FANTASIA (Silver)
Family Ski: World Ski & Snowboard (Silver)
ONE PIECE Unlimited Cruise Episode One Nami ni Yureru Hihou (Silver)
Tales of Symphonia: Dawn of the New World (Bronze)
Dragonball Z Sparking! METEOR (Bronze)
Like Microsoft Platinum and Sony's Greatest Hits offerings, the packaging is different from the original release so folks know it's a bargain.
No word on whether the rest of the world will get a similar deal was revealed, but we'll contact Nintendo and see if we can force anything out of 'em.