3D Bravia tellies will net you free PS3, GT5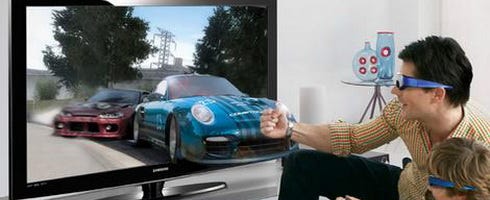 To celebrate the launch of Gran Turismo 5, Sony's offering a deal which entitles you to get a free PS3 and a copy of the racer with any Sony 3DTV.
Also included is a 3D transmitter and two pairs of 3D glasses. The total amounts to around £500 worth of freebies.
The offer which kicked off today, will be valid till Sunday, December 5.
A Sony Bravia 3DTV will cost you £4,499 according to Sony's website. Doesn't sound so "free" now, does it?
Sony's also looking for a race champ as part of its 3D-GT5 tie-in. 3DTVs are being installed in HMV stores around UK to host a competition, with gamers sweating it out to post the best lap times.
One guy will get to chance to compete in the grand finals at HMV HQ in London, which be hosted by F1 presenter Jake Humphreys and will take place on December 15.
Thanks, Eurogamer.
Gran Turismo 5 released the world over today and is exclusive to PS3. We've rounded up all the reviews for you.