Xbox studios could use Doom's id Tech engine, says Spencer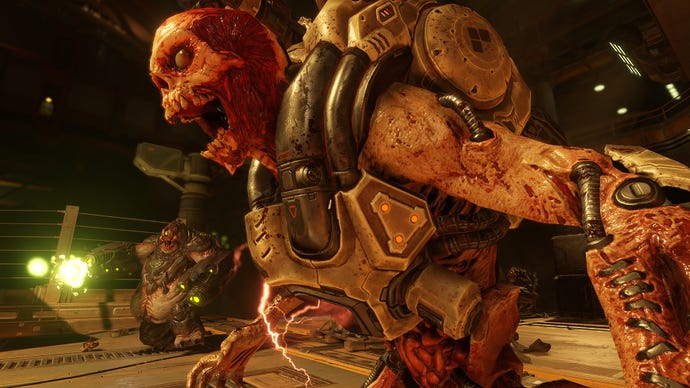 We may soon see many more Microsoft-developed games using id Tech.
Doom developer id Software has one of the most optimised modern engines: id Tech. This is what powers the 2016 Doom reboot, last year's Doom Eternal, and MachineGames' Wolfenstein games.
The engine is known for delivering a lot of detail without compromising on performance. It's part of the reason why Doom 2016 and Eternal are both 60fps games on consoles, and why they run at very high framerates on PC. It turns out, head of Xbox, Phil Spencer, is also a fan of id Tech, and he wants to bring its magic to more studios.
On last night's roundtable discussing the Bethesda acquisition, Spencer singled out id Tech as one particularly impressive piece of tech he wants to put Microsoft's resources behind.
"There's no studio that sweats every pixel on screen - and every frame - the way id Software does," said Spencer.
"And then when you think about their capability, and I think about them collaborating and working and talking with [Gears studio] The Coalition, [Halo studio] 343 [Industries], and just the first-person/third-person shooter space that we have, the studios that are there, it's just kind of an amazing capability."
Spencer also hinted that we may see id Tech powering many more games in Xbox's portfolio, as those studios begin collaborating with id Software to make the engine even better.
"Obviously, you know, we've got a tonne of studios doing a bunch of different work. I love the way Marty [Stratton, studio director] talked about how they've collaborated with other Bethesda studios on id Tech," Spencer went on.
"And I just think about [taking] that to the next level. What can we do inside of our organisation with id Tech, which is one of the world's best game engines out there, and just make it a tool that so many developers can use to realise their vision."
Everything is going to remain business as usual for now, so we should probably expect these collaborations to manifest later down the line.