XBLA House Party: Perfect Dark hits March 17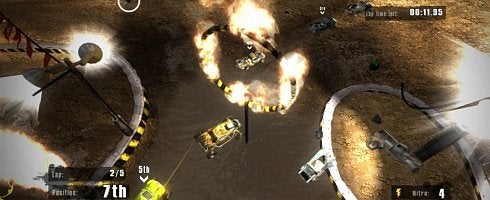 Microsoft has revealed dates for its XBLA titles hitting in March, and among them is Perfect Dark landing on March 17.
That's not all though, MS is handing out an extra 400 MS Points and a month's worth of Gold membership in celebration.
Toy Soldiers, Scrap Metal, and Game Room also got dates and details. Microsoft is sweetening the deal too, if you get all four, you will be given back 400 MS Points, and a month of Gold membership for free if you are already a member.
Also, March 26-28 will have free online play for all Silver Subscribers.
Read onward.
Toy Soldiers - March 3, 1200 MSP:
Your army of antique toy soldiers battles it out across five unique maps, all with multiplayer potential. Deploy infantry, pilot zeppelins and fighter planes, or send in the cavalry…whatever it takes to earn victory in this action-packed strategy game.
Scrap Metal - March 10, 1200 MSP:
Use rocket-launchers, flamethrowers and more dastardly tricks to ensure you finish first in more than 60 single-player missions. Or challenge friends to a Destruction Derby plus other superb multiplayer modes in split-screen or across Xbox LIVE.
Perfect Dark - March 17, 800 MSP:
The celebrated action adventure from Rare, starring Joanna Dark in her landmark first mission. Newly 're-mastered' in high-definition and upgraded character models, you can play this classic shooter solo, 2-player split-screen or 8-player online.
Game Room - March 24, Free download - 400 MSP dual-platform, 250 MSP single-platform, 40 MSP single play:
More than 30 arcade classics in their original cabinets can be yours in your virtual game room. Couch Play mode lets you invite friends for two-player challenges at home, but the fun really takes off across Xbox LIVE with leaderboards to aim for.
To celebrate the beginning of this month-long Xbox Live House Party there, will be a new Avatar Collection featuring exclusive items based on the featured games.
Sounds like fun.
Thanks, Dutch.