Valve drops $25 on L4D2 ad campaign, pre-sell 300% up on original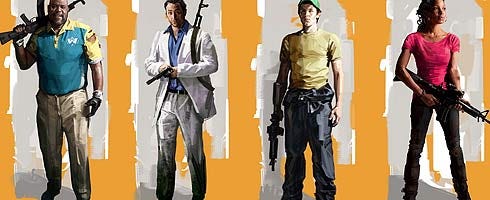 Valve's to spend $25 million on advertising Left 4 Dead 2, the company just confirmed.
"Based on the strength of pre-orders, Left 4 Dead 2 will be the fastest-selling product in Valve's history," said company boss Gabe Newell.
"Left 4 Dead 2 has consistently run at 300 percent of Left 4 Dead's numbers."
For the record, the first game got a $10 million campaign. Small change.
PR after the break.
VALVE ANNOUNCES $25 MIL LEFT 4 DEAD 2 AD CAMPAIGN
Zombie Blockbuster On Track To Top Valve's All Time Sales
Oct 5, 2009 - Valve, creators of best-selling game franchises (such as Half-Life and Counter-Strike) and leading technologies (such as Steam and Source), today announced a $25 Mil consumer advertising plan for its upcoming action thriller, Left 4 Dead 2 (L4D2).
"Based on the strength of pre-orders, Left 4 Dead 2 will be the fastest-selling product in Valve's history," said Gabe Newell, president of Valve. "Left 4 Dead 2 has consistently run at 300% of Left 4 Dead's numbers."
Last year, Left 4 Dead was the top selling new property for both the Xbox 360 and PC. Sales were driven by strong word of mouth, top reviews, and a $10 million advertising campaign.
"We'll be supporting Left 4 Dead 2's launch with a $25 million campaign," said Doug Lombardi, Valve's vice-president of Marketing. "Left 4 Dead 2 has already set the record for greatest number of pre-orders in our company's history, and we're still over a month out from shipping."
In the USA, the campaign will include Monday Night Football and UFC television broadcasts, roadside billboards, and popular lifestyle and gaming sites.
This year's European plan is also more aggressive than last year's, with television advertising in all the major markets appearing during sports and lifestyle programming, plus strong outdoor investments in more cities, as well as online and print advertising.
"Left 4 Dead 2 is expected to once again exceed everyone's expectations and be an industry best title on PC and Xbox 360 for the year," said David DeMartini, General Manager of EA Partners. "With Left 4 Dead and now Left 4 Dead 2, Valve has created one of today's most compelling video game experiences and leading entertainment franchises."
Coming exclusively to Xbox 360 and PC, L4D2 promises to set a new benchmark for co-operative action games and become one of 2009's marquee titles. Set for release on November 17, the title adds melee combat to enable deeper co-operative gameplay, with items such as a chainsaws, frying pans, axes, baseball bats, and more.
Introducing the AI Director 2.0, L4D's dynamic gameplay is taken to the next level by giving the Director the ability to procedurally change weather effects, world objects, and pathways in addition to tailoring the enemy population, effects, and sounds to match the players' performance. The result is a unique game session custom fitted to provide a satisfying and uniquely challenging experience each time the game is played.
Finally, with new Survivors, boss zombies, weapons, and items, Left 4 Dead 2 offers a much larger game than the original, featuring more co-operative campaigns, more Versus campaigns, new Survival maps, and a brand new competitive mode all available at launch.
For more information, please visit www.l4d.com