Watch Dogs 2, The Division, For Honor - all the news from Ubisoft's E3 2016 presentation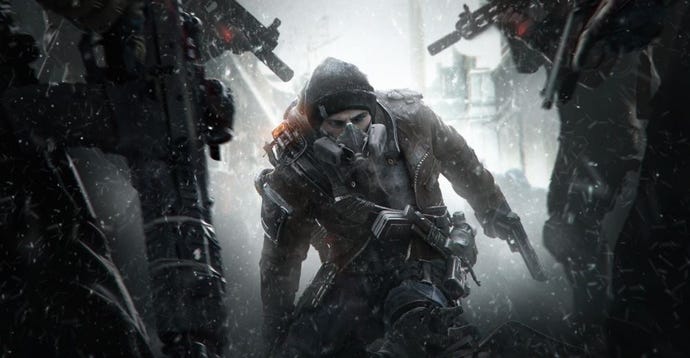 Watch Dogs 2, Tom Clancy's Wildlands, The Division and more: guns are drawn for Ubisoft's big reveals.
Watch Dogs 2, The Division, For Honor - all the news from Ubisoft's E3 2016 presentation
The Ubisoft press conference kicked off with some folks and furries dancing with clips from Just Dance 2017 playing on-screen.
Host Aisha Tyler then stepped on stage after the dancers were through cutting a rug to announce that the latest iteration of the game would feature the first streaming system.
It will be made available on all platforms this fall, including PC and will arrive on Nintendo NX next year. But you want to hear about the big games, right? Well, read onward.
Ghost Recon Wildlands
Next on stage was a new trailer for the latest shooter in the Tom Clancy series. It focused on the Mexican Cartel taking over the cocaine industry in Bolivia. The cartel has taken over the cocoa leaf business in the regions and has the government in its pocket.
It's the first military shooter in the series with an open-world playable in both solo and 4-player co-op. The open world will have various ecosystems that will affect gameplay - all with freedom of choice to achieve objectives the way the player wants.
Ghost Recon Wildlands releases on March 17 for PC, PS4 and Xbox One.
South Park: The Fractured but Whole
The game features the new kid, again, and where as the Stick of Truth was a fantasy setting, now the kids are playing as their alter-ego superheroes.
So expect the Coon, Captain Chaos, Mysterion, The Human Kite, Toolshed and more.
As the new kid, the player will come up with their own superhero in order to become part of the Coon & Friends group. Players can mix and match powers, and will be able to define the character with "crime fighting motivations."
Some of the missions include zany adventures such as helping the Gay Fish's (Kanye West) mother get to heaven.
The combat has been tweaked. Players can now move to get behind cover, push and pull enemies, and the space is no longer restricted. Powers can be used to get over obstacles and players can even manipulate space and time using the power of flatulence.
Those who pre-order the game will be handed The Stick of Truth free on Steam, PS4 and Xbon One when they pre-order. They can do so from today, and start playing The Stick of Truth right away.
It's out December 6.
The Division Survival, Underground
A dangerous threat is running around unchecked in the New York City underground. You must put an end to it.
While we heard more on Underground during the Microsoft E3 2016 press conference, Ubisoft showed the video once more during its showcase.
The first of The Division's three paid expansions, Underground, will be available June 28 exclusively on Xbox One and PC. The new content will also be available on PS4 on August 2. As with the free Incursions and Conflict updates, Underground brings a host of new features and loot to collect as player navigate the subways, tunnels, and sewers generated with random layouts.
Additionally, Underground features a new Incursion called Dragon's Nest, which will be bigger than those found in the previous updates. Set in Hell's Kitchen, it features the Cleaners as a primary enemy as they continue their haphazard and dangerous attempts to burn the virus out of New York City.
Also, free outfits are coming with The Division Underground if you are a UbiClub member. As you can see in the image above, the clothing is based on other Tom Clancy shooters Wildlands, Ghost Recon and Splinter Cell.
The main focus for Ubisoft with The Division during its presenattion was the Survival DLC content. It is coming first to PC and Xbox One. It features a city accosted by a blizzard, and it will be released this summer.
Eagle Flight
Palmer Luckey and Jason Holtman came on stage to discuss the Oculus Rift title.
Tow teams of three will go against one another in the VR competeive mode. It's a capture the flag mode with a best of three rule. It takes place over Paris. Players will try to grab the "prey" and take it back to their nest.
Star Trek: Bridge Crew Trailer - VR Game
Another video for the VR title was shown, and featured Star Trek actors such as Karl Urban, Jeri Ryan and LeVar Burton.
Players can play in co-op as captain and other members of the crew on the USS Aegis as it searches for a new Vulcan homeworld. Players will need to work together with up to four players as a team to keep the ship running smoothly as they take on missions and come face -to-face with the Klingon Empire.
Alternatively, players can also experience the game solo with AI crew members. It features full-body avatars, hand tracking, and real-time lip-sync.
Star Trek: Bridge Crew is coming this fall for Oculus Rift, HTC Vive, and PlayStation VR.
For Honor
Two rather awesome videos were shown for the game. One cinematic, and one featuring the Vikings faction.
Ubisoft announced today the game would feature a full story-based campaign that can be played solo or with two players in either split-screen or online. This campaign will go into more depth on the three warrior factions, as well as the evil leader of the Blackstone Legions, named Apollyon.
An Alpha test will be held, and you can register for the tester through the official website.
There will be Deluxe and Gold Editions made available, with the latter coming with exclusive gear, customization items, a special execution effect, and boosters.
The Gold Edition includes all of the Deluxe Edition items and the For Honor Season Pass. If you pre-order For Honor, you'll also get access to the Legacy Battle Pack, which includes three exclusive armor designs wearable by Warden, Raider, and Kensei.
It's out on February 14, 2017 on PC, PS4 and Xbox One.
Grow Home sequel Grow Up
BUD is back with a new adventure in the open-world sequel, Grow Up. Where the original saw the little robot growing a large beanstalk-like Star Plant, this time out he is tasked with "acrobatically bounding around a lush world" looking for scattered pieces of his spacecraft, MOM.
This time, he has new abilities such as Floradex, which enables him to clone any of Grow Up's 24 plant species. These can then be used to bounce, catapult, and soar through the landscape in order to discover its secrets.
With the help of his friend POD, BUD will be able to tackle the game's missions or leisurly explore and reshaping the world. Eventually, he'll need to find a way to grow the planet's gigantic Star Plants, so he can climb into space, and reach the distant moon for a reunion with the final piece of MOM.
Grow Up will be made available for download on PlayStation 4, Xbox One, and PC this August.
Trials of the Blood Dragon
If you like Trials, and Far Cry: Blood Dragon, they got together and made a baby called Trials of the Blood Dragon.
Trials of the Blood Dragon is available right now on Steam, PS4 and Xbox One for $14.99. It was releases mere moments after Ubisoft's E3 showcase.
The mash-up combines Trials gameplay with the style and attitude of Blood Dragon.
Take control of Rex Power Colt's "cyber-commando kids" as they drive, shoot, swing, tame and travel through different environments. Expect also hot competition with Ghost mode, Global Score and Leaderboards.
The game features 30 missions across seven different worlds, with fully animated cut scenes, and a self-contained story set 12 years after the events of Far Cry Blood Dragon.
Assassin's Creed Movie
Producer Frank Marshall came on and discussed the movie, and showed a behind-the-scenes look at the actors, such as Michael Fassbender, discussing the storyline. It also showed never-before-seen clips from the film. It looked pretty cool, honestly. Let's hope it is.
Watch Dogs 2
A new video for the game was shown, and it was in walkthrough format showing Marcus and his Dedsec allies infiltrate the home of a social media mogul.
In this mission, Dedsec is looking to expose the CEO of popular social media platform, !NViTE, who is using the citizens' personal data to engineer a corrupt voting process.
Watch Dogs 2 tasks players with finding their own missions through exploration and then tracking them through the phone's DedSec app. The anomalies that lead to missions are "represented by orange blooms" which can be seen while in Nethack mode. Think of it as something similar to night vision, only hacker vision which reveals hackable points of interest and electronic signals.
After the demo was finished, Yves Guillemot, CEO of Ubisoft, announced the continued relationship with Sony on the sequel. Sony's Jim Ryan took the stage to announced the two are working on a Watch Dogs film. We knew a film was in the works, but now we know for sure the picture company will also be working with and 20th Century Fox on the distribution. It was previously reported Recency pictures would handle the production.
Also, as previously reported, it will follow the story of Aiden Pearce who uses the CTOS against the corruption of Chicago.
As with the first Watch Dogs, once again, there will be exclusive incentives for those who won a PS4.
Steep
The open-world IP from Ubisoft, Steep, is an open world action sports game from Ubisoft Annecy. It features extreme winter sports such as skiing down treacherous mountains, gliding around in a wingsuit, snowboarding and parasailing through the Alps.
Players will find various drop zones across the map and reaching them will award medals. And yes. You can hit the side of a mountain and bounce off of it like a child's rubber ball. It features online competitive play, and players will encounter others in the community while playing.
Other players can be followed, the camera can be used in slow-mo, and videos can be taken in-game and shared. Replays can be edited with different camera angles, speeds, and pacing to give them extra pop.
The game also features live riding quests scattered across the world, which will encourage players to go to different parts of the mountain.
A beta is the in the plan, and Steep is scheduled for release this December on PS4, Xbox One, and PC.
Open-world slopes based on the mountains of Alaska will be available as a post-launch, free update.
Head back to our E3 hub for everything to do with the most exciting week in video games.