The Sims go medieval in spring 2011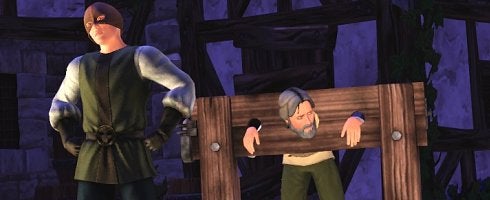 EA has announced The Sims Medieval is currently in development and set for release in spring 2011 for PC and Mac.
In it, players can take their Sims back in time to the Middle Ages to "create heroes, venture on quests, build and control a kingdom, and play every Hero Sim character in the land".
Of course, it wouldn't be the age of chivalry without a bit of conflict, comedy, drama, and romance.
"The Middle Ages is a time of intrigue, legend, and excitement," said Sims GM Scott Evans.
"It offers a perfect backdrop for a brand new series from The Sims studio due to the limitless stories that can be told. The Sims Medieval offers a new way for players to experience The Sims which we hope fans will enjoy, and it features gameplay that fans of strategy and role-playing games will find appealing such as controlling an entire kingdom and quest-based gameplay mechanics."
Players will be able to build their own medieval kingdom with control over Kings and Queens, knights and wizards, blacksmiths and bards and peasants. It provides a host of "storytelling possibilities in the form of quests, from crafting a legendary sword to arranging a royal wedding, to protecting the kingdom from an evil sorcerer, to finding the fountain of youth".
Every quest plays out differently depending on which Hero Sim the player is controlling.
Here's a gameplay description from the press release:
The destiny of the kingdom rests in the players' hands. Will players build up their kingdom through internal expansion, or perhaps look for a more imperial type of domination, expanding their rule by conquering territories? Will they take on quests in pursuit of fame, or focus on the health and wellbeing of their people? The choice is theirs! With the start of every new game, players will be able to select a new ambition for their kingdom, and embark on a new set of stories.

Everything in The Sims Medieval is crafted to create an immersive medieval world, from the quest-based gameplay, to the medieval objects such as swords and stocks and thrones, right down to the warm look of the characters, and the painterly approach to the world itself. Players can choose to customize every new Hero that comes to the kingdom, including selecting their traits and their fatal flaw. Players get close to their characters, not only sending them on epic quests, but also making sure they carry out their daily responsibilities such as healing the sick, trading for exotic goods, or forging armor. From having a baby to competing in a royal tournament, what happens to their Sims is up to the player. The time of romance and chivalry is back with The Sims Medieval.
Sounds fun if you are a Sims player. No exact date, yet.