Tetsuya Nomura Opens Up About Kingdom Hearts 3: "I Do Feel a Little Sad When I Think Some Characters Will Probably Never Appear Ever Again"
INTERVIEW | Kingdom Hearts 3's director on ending a saga, the return of Pirates of the Caribbean, the hardest Disney franchise to adapt, and more.

This article first appeared on USgamer, a partner publication of VG247. Some content, such as this article, has been migrated to VG247 for posterity after USgamer's closure - but it has not been edited or further vetted by the VG247 team.
Tetsuya Nomura sits wearing a stylized Mickey Mouse t-shirt, a black hat pulled low over his eyes. He's there to answer questions about Kingdom Hearts 3, a game that has been rumored and obsessed over for more than a decade.
It's tempting to bluntly ask, "What took so long?" But that's not really necessary. Nomura offers hints on his own as he talks about the lengthy prep time, the desire to include as many styles of gameplay as possible, and the lengthy approvals process from Disney.
He talks about how much easier it was before Kingdom Hearts became an international success. "I think that whenever we would bring our previous titles, a lot of people at Disney, and this is my assumption, but I do assume that they probably didn't know what Kingdom Hearts was," he says.
But after five long years of development and 12 years of anticipation, Kingdom Hearts 3 is finally almost done. I sat down to ask Nomura about what it's like to finally put a bow on a 16-year-old saga, his desire to bring back Pirates of the Caribbean, and of course, the Gummi Ship. Here's what he had to say.
Kingdom Hearts 3 finally brings the Dark Seeker Saga to a close after more than 15 years. Tell me what it means to you to finally finish this story. Are you happy? Are you a little sad that it's finally coming to an end?
Tetsuya Nomura: Yes. It does come to an end, but I'm not fully swayed to one emotion. I'm not really happy, I'm not really sad. Although I do feel a little sad when I think some characters will probably never appear ever again. Once I think about that, it makes me a little sad. But other than that I'm just more relieved that I was able to tell the full story.
Pixar films feature prominently in Kingdom Hearts 3. I'm curious to know why they get more emphasis here, but not as much emphasis in, for example, Kingdom Hearts 2. Was it because the PS2 wasn't powerful enough to give you the results you wanted?
Tetsuya Nomura: I've always wanted to have a Pixar world within Kingdom Hearts, it's just that Disney has always returned to me and said that it will be difficult to make it happen. I assume that there were some reasons within Disney that did not allow us to do this, but I don't know what they were. But I do think that that situation probably changed this time and that we are allowed to do it. It just so happened that we were able to negotiate with Disney and Pixar to have it in on our title this time.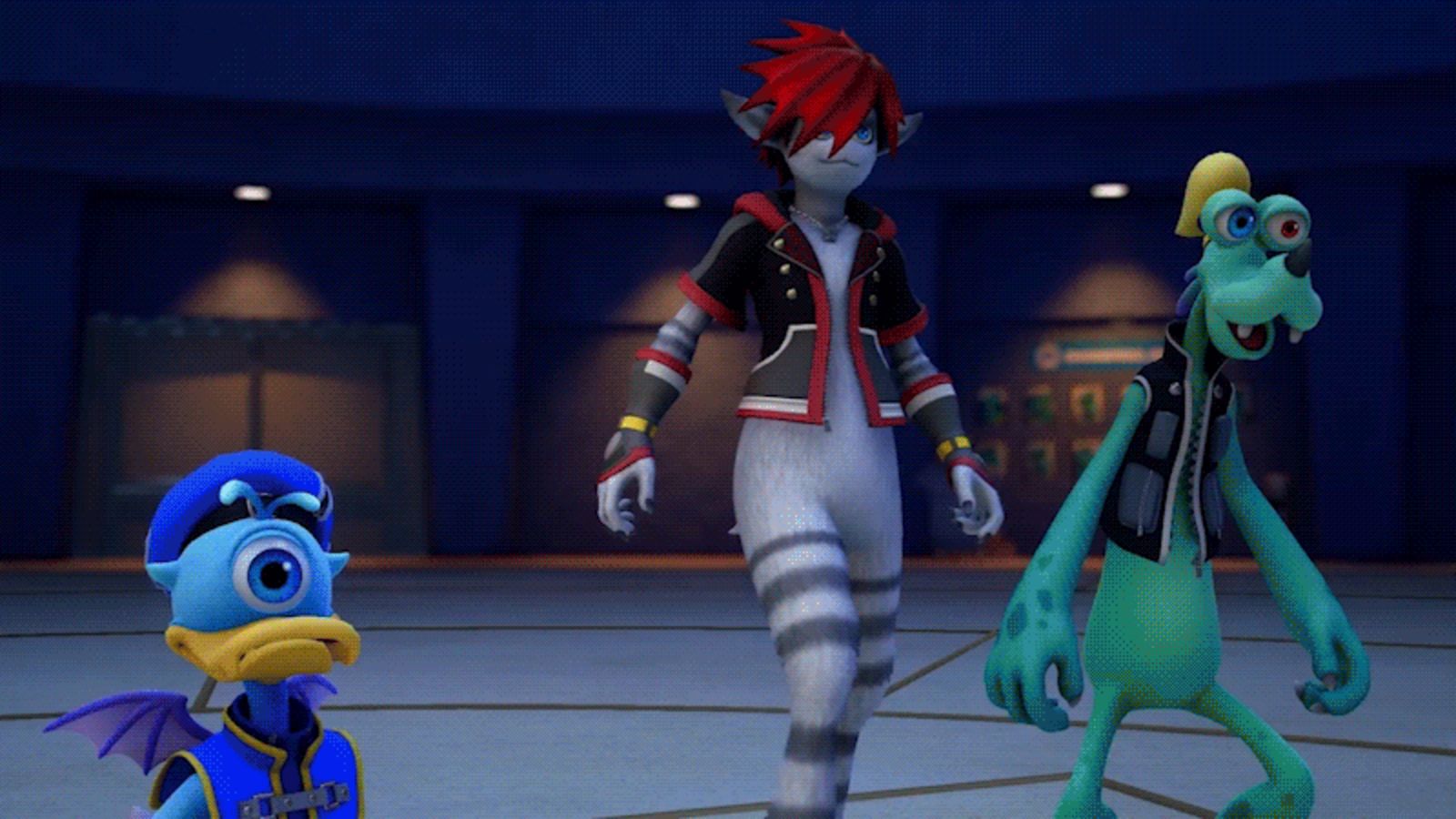 Seeing Goofy in the Monsters Inc. world, he has a very interesting design. I'm curious what were your intentions were in that regard? Can you tell me a little about that?
Tetsuya Nomura: For Pixar world, the desires that [the Monsters Inc. and Toy Story teams] had for their titles were really strong. We had a lot of guidelines to abide by in terms of how they appear. Comparing the two worlds, Monster's Inc. had more guidelines that we had to follow, and were a little more clear cut in the details. The coloration, for example, or whether a character only had one eye. When we took a look at those guidelines and figured out what we had to do, we felt that Donald should look this way and then Goofy should look this way. We also had a lot of input from the Pixar team that worked on Monsters Inc. We did pretty much follow their guidelines as well as their feedback for those characters.
The Gummi Ship is returning in Kingdom Hearts 3, which I think is interesting. I'm curious why you decided to bring it back? What you think it can add to Kingdom Hearts 3. Is it to tie it more into the previous games?
Tetsuya Nomura: In Kingdom Hearts numbered titles, the Gummi Ship has always been there to travel between the worlds. Gummi Ships are part of the basics of Kingdom Hearts, and as a numbered title in the series, I thought it was necessary to have it in there to complete the package. This is something that [Hironobu Sakaguchi] told me once, which is that Final Fantasy is a title that just has everything in it.
I wanted to bring that to Kingdom Hearts. In Kingdom Hearts there's the shooting game, there's the RPG, there's the adventure game. It has action, command battles, and everything. There's customization with Gummi Ships, and they bring with them the shooter aspect and the travel aspect. It's just a part of Kingdom Hearts. That's why I thought it was necessary to have it in the title.
At the end of one of the Kingdom Hearts trailer, Aqua definitely has Xehanort's eyes. We think that signifies that she was corrupted by the realm of darkness since the events of Birth by Sleep. Could you elaborate on that and can you speak a little bit on what we can expect from Aqua in Kingdom Hearts 3.
Tetsuya Nomura: I do know that she is a popular character among her fans. I'm sure many are shocked to see [her eyes]. People were more shocked than I expected that they would be. I can't really go into much detail about her because I will just spoil everything, but something does happen in Kingdom Hearts 3 that make her seem like how she is right now in the trailer. I think all I can say is that the player is the only one that can save her from him.
I think it's interesting that you brought back Pirates of the Caribbean, especially since it contrasts sharply with the animated characters. Like, you have Johnny Depp, then you have all the other characters. Why did you bring back Pirates, and why did you choose Pirates Of The Caribbean 3 in particular? Is it because that game is end of the trilogy much like this one?
Tetsuya Nomura: For Kingdom Hearts, it's been a while since we released on a console. Now a lot of developers are creating photorealistic games, and I think that's more mainstream nowadays. I wanted to prove Kingdom Hearts is able to do a more realistic game as well. I also was very interested to see how realistic we could get it. That's why I wanted to have some live action film-based world.
I also thought that the matchup between a very photorealistic character and Sora, Donald, and Goofy would be very interesting to see, which is why we decided to have that world. As for why we selected The World's End, it was because of its story line.
The second and the third movie are connected and the second movie doesn't really have an ending because it takes you to the third movie. It didn't really make sense to go with that one because it doesn't really have a clear ending with that film. We decided to go with the third film which had a clear ending.
You mentioned skipping the previous generation of consoles. Was it always your intention to finish Kingdom Hearts 2, explore some side stories, look at different things, and then finally return to the final story much further down the line?
Tetsuya Nomura: It's not like I had a specific order in mind. It was more like we released it in order of conception or idea. Also because it took us a long time to prepare for Kingdom Hearts 3. If you can take a look at what we have already revealed, you can tell that it is a pretty crazy title that we have created. We did have to have a lot of prep time for it. That just a bit longer than our other spin-off titles.
Disney has changed tremendously since 2006. Obviously Marvel, Star Wars, Pixar, totally different style of animation. How your relationship with Disney and its properties evolved over the past 10 years or so in the context of Kingdom Hearts?
Tetsuya Nomura: I can say that it has actually been increasingly difficult to get approvals from Disney. That's mainly because in the past Kingdom Hearts titles, the creator wasn't around anymore or the team that used to create those titles wasn't there anymore. There was just this one person that we would just have to go to and they would approve it and we'd be fine and good to go. But because we've been featuring recent titles, they still have existing teams for existing creators that are still working in Disney and still working on a certain title.
That feedback process just has been a little bit more difficult than before. And each team would have a different set of rules and guidelines and they would say different things, or they would look at different things. It's just been a little different that how it used to be because Kingdom Hearts is a bigger title than it was before. I think that whenever we would bring our previous titles, a lot of people at Disney, and this is my assumption, but I do assume that they probably didn't know what Kingdom Hearts was. They'd go, "What's Kingdom Hearts? I have no idea."
But now that it's become a bigger title, a lot more people have been involved in than before. In that sense the relationship with Disney has changed quite a bit. Emotional changes I don't really know if there has been any changes emotionally for me. But at least physically I can say those were the changes that we had with Disney.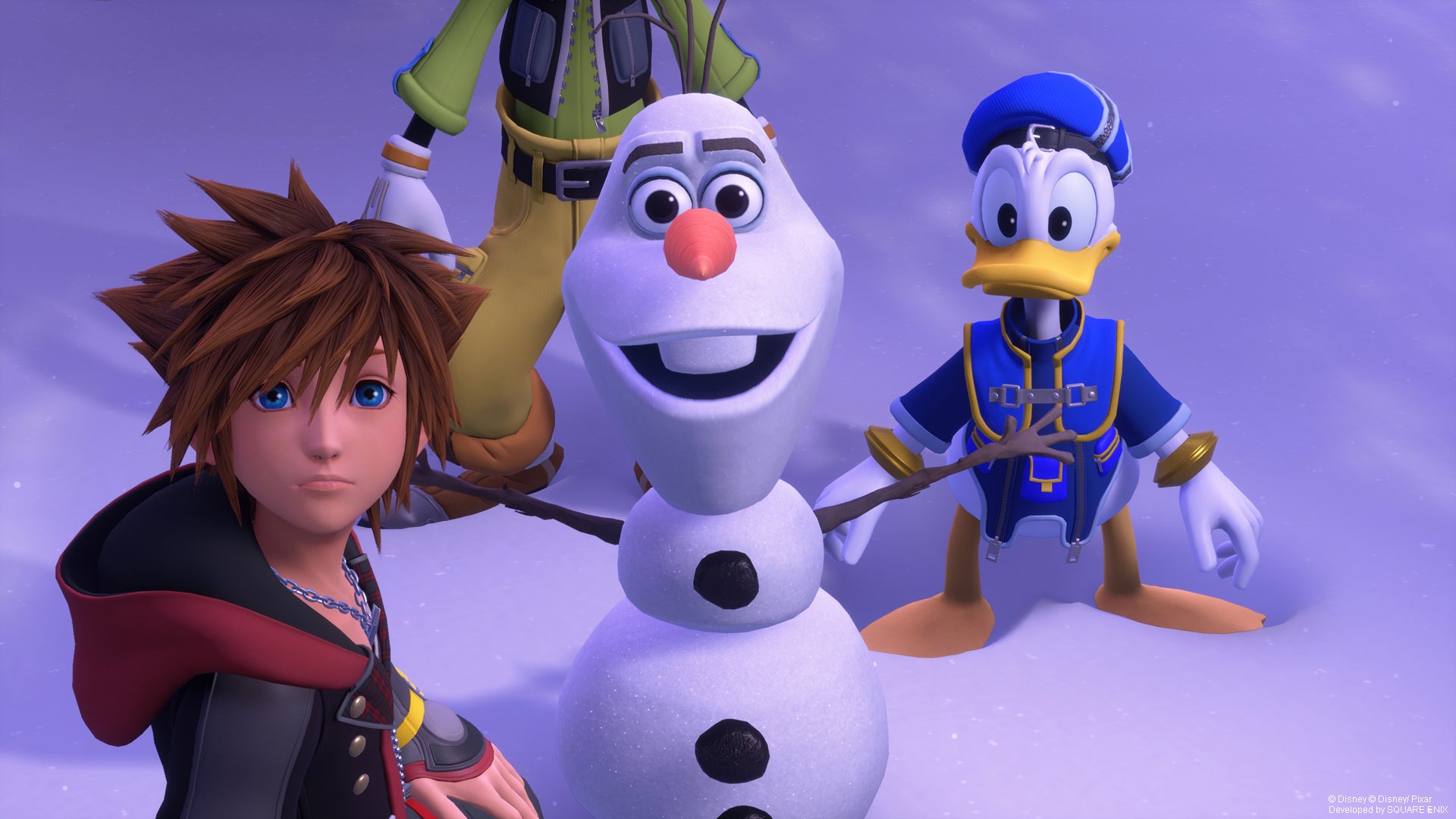 You mentioned that Monsters Inc. had many more guidelines than Toy Story. Was that the one that had perhaps the most guidelines or was there one that had even more?
Tetsuya Nomura: Frozen had the most.
I imagine if you want part of a level to be behind the Monsters Inc. factory, you could ask them what they think that would look like. You could ask them to try and provide some suggestions or fill in some of their vision. Whereas for Aladdin, for instance, that's not possible anymore. Being able to quiz those people. So is that also helpful in some respects?
Tetsuya Nomura: Since you mention Aladdin, I'll just use Aladdin as an example. Since there isn't anyone that we could ask about adding more areas to Aladdin, it was actually easier because we could just create them on our own.
But speaking of advantages, because all these films were made in CG, we weren't able to use the character models as is. But we were able to receive a lot of different assets that we could actually base references on them to create, and I think we were able do it a bit easier than we were able to do with our past titles, as well as create something with higher quality because the original title was in CG.
Final Fantasy characters have always been a big part of Kingdom Hearts, but it was always fun to watch them interact with Disney characters in interesting ways and of course it brought together Disney fans and Square fans. But it appears Kingdom Hearts 3 won't be using Final Fantasy. I'm curious to know why you went in that direction? Is it because you wanted to focus on the core cast, because it's their final game?
Tetsuya Nomura: I can't disclose too much about the Final Fantasy characters or whether or not they'll be in Kingdom Hearts 3, because I can only speak to what's been shown. But the reason you haven't been shown any Final Fantasy characters is that there are so many original characters that need to resolve their own problems and issues. And because their issues and problems are very difficult, there just hasn't been that much space to fit Final Fantasy characters so far."
When you look back on the first Kingdom Hearts, Sora was still a new character, so we kind of had the Final Fantasy characters as supporting characters. But now that it's been 15 years, the original characters are more polished than they were before, so I don't think think they need the Final Fantasy characters help as much as they did before. [...] Also, when we first released Kingdom Hearts, there weren't that many other titles that brought together the Final Fantasy characters. I actually think that Kingdom Hearts may have been the first to do that.
But nowadays, there are an abundance of titles that do that, so I don't see the value of having that kind of feature in the game anymore. But that doesn't mean that I'm saying that there won't be any Final Fantasy characters. Please look forward to future information.
Kingdom Hearts 3 will be out January 29 on PS4 and Xbox One. You can read our guide to everything we know about Kingdom Hearts 3 here. One follow-up question in this Q&A was contributed by Endgadget as part of our roundtable with Tetsuya Nomura. We are using it with its writer's permission.