Here's our first look at The Walking Dead's Negan in Tekken 7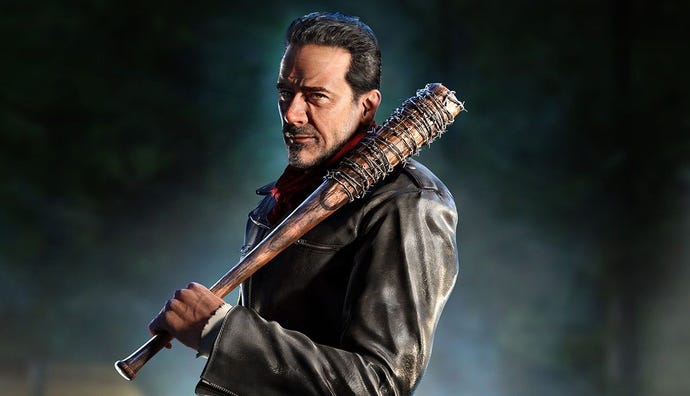 During last night's Tekken World Tour Finals, Namco unveiled the first trailer for Negan.
Negan, in case you missed it, was a surprise reveal at EVO 2018 in July. He's part of Tekken 7's second season pass, which also includes Anna, Lei, Craig Marduk, Armor King, and Julia Chang.
Anna, and Lei are already available, and today, Marduk, and Armor King join the fight. During the Tekken World Tour Finals, we also got to see official reveals of Marduk, Armor King, Julia, and Negan.
Julia, and Negan do not yet have release dates, however. At the event, just minutes before these reveals, game director Katsuhiro Harada announced that Tekken 7 has now sold over 3.6 million copies worldwide (via Event Hubs).
For Negan's reveal, Namco recreated that famous scene from the end of The Walking Dead's sixth season, where Negan stands above kneeling characters from the show. This time, though, the gang is replaced with Tekken characters.
The stage even resembles the setting of the same scene from the show. As you'd expect, Negan's baseball bat plays a big role in how he plays. Catch the full thing below.
And here are the first gameplay trailers for Armor King, and Craig Marduk - which are once again out today for owners of the season 2 pass.