Super Mario Maker 2 FAQ: how to change character to play as Luigi, Toad or Toadette and how to save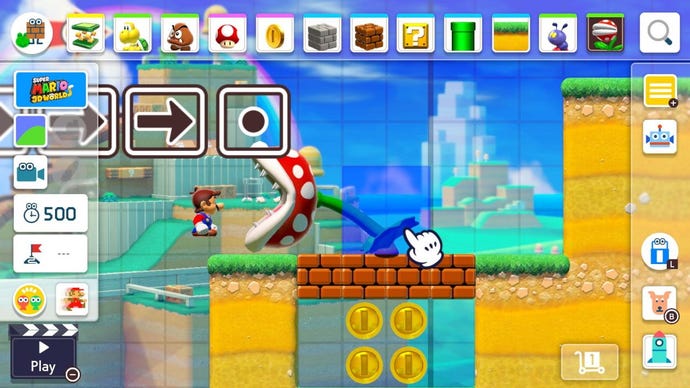 Super Mario Maker 2 now comes with the ability to play as Luigi, plus a couple of flavors of Toad - but the setting to change character is hidden away within the game's menus.
Super Mario Maker 2 is a huge game. It has enormous tutorial content thanks to Yamamura the Pigeon and his Dojo and the excellent story mode, but that doesn't sometimes mean you can't get confused by the obvious stuff.
The menus are dense, and sometimes the most seemingly clear of things are hidden in plain sight. We see you all googling - so here's the answers to a few of those common questions around the game, including how to change playable character and how to save your courses.
How to Change Character in Super Mario Maker 2 to play as Luigi, Toad or Toadette
Thanks to the addition of multiplayer (which can either be cooperative or painfully competitive) in Super Mario Maker 2, one major new addition to the game is multiple playable characters. Just like in New Super Mario Bros, Luigi, Blue Toad and Toadette are all available to play as - and even when playing solo, you can choose which you'd like to be with a new change character setting.
This change character option isn't something set at the level creation point, which is where some players are getting confused - instead, it's a broad option for you as a player found in your settings. Simply head into the settings and within you'll find an option to select from one of the four heroes.
If you're stuck looking for the settings menu, just press the plus button, and then look on that menu for a button with a wrench on it - that'll get you to where you need to go.
Despite them not being playable in the 2D Mario games, Blue Toad and Toadette have had new sprites created, so they're available in every type of course theme. Due to the nature of course creation and how this game works, all four characters have the same skill set - so Luigi doesn't have his floatier jump or anything like that.
How to save courses in Super Mario Maker 2
While this one might be obvious, it's again confusing some people because Mario Maker 2 doesn't feature names on a lot of its menu buttons, nor tooltips when you hover over them. You don't want a lot of hard work to go to waste by accidentally hitting the reset button (that's the rocket) or undo (the dog, as story mode teaches you), after all.
So, just to confirm: to save and load in Super Mario Maker 2 when creating levels, just hit the robot. The robot is found on the right-hand side of the edit screen menu, just below the main menu button that gives you wider options in general. Press the robot and this'll give you a chance to save over the existing save of that level, or save as an all-new stage.